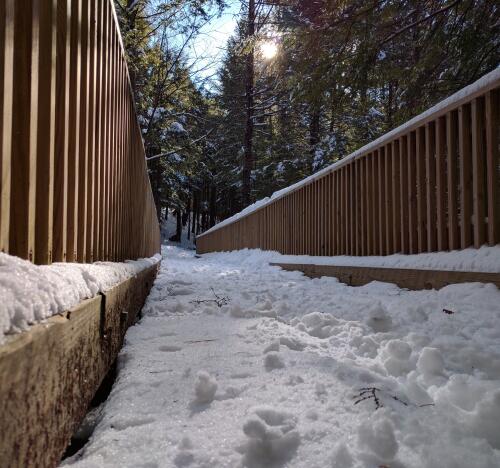 Winter can be one of the most difficult seasons to train consistently through. Some weeks it's so cold that the hair in your nostrils freezes instantly. If it's not bitterly cold, there's probably a snowstorm or two blowing through to add a few more inches of snow on top of what was already piled up. Throw in the occasional warm sunny day to melt the snow so it can refreeze at night on your sidewalk, and suddenly the reasons to not go running start to outweigh your motivation to actually go running.
And this year we've really had a taste of just about anything winter can throw our way. We've had some stretches of bitterly cold arctic air. There have been a few nasty snowstorms and even some freezing rain. But there have also been some beautiful warm sunny days. Last week in particular, I ran in -7 degrees one morning, and the next morning I was wearing shorts because it was 43 degrees! The next two days I wore shorts before another blast of arctic air came through and the temperatures were in the single digits again.
You know as well as I do that we still have a little ways to go before winter starts to taper off and gives way to spring flowers and warm summer breezes. But each day has just a little bit more sunshine and before you know it, it won't take 30 minutes to get dressed just to go for a run. Here are a few tips to help pull you through:
1. Be versatile
Winter isn't the only season where a 45-degree temperature swing is possible, but the difference between -5 and 40 degrees is huge from a running perspective. Take advantage of those warm days, but don't be surprised when it gets cold again in mid-January.
2. Keep your goals in mind
What are you training for? Do you have a half-marathon or full one coming up this spring? Are you trying to build a more consistent running habit? Having a goal, especially a big one, will keep you more accountable to get your training in even when you may not want to.
3. Be smart
Some of you don't care what's happening with the weather, you're going to be out there getting in some miles. That's great, but be smart about it. Most drivers aren't going to be thrilled dodging runners in a blizzard. I know I wouldn't be. If possible, plan routes that keep you out of high traffic areas, especially in bad weather. Don't tempt fate.
We still have a little ways to go this winter. If you are in need of some friendly faces to run with and some mid-winter motivation, check out our free Winter Warriors groups that are in full swing.
Lastly, I leave you with one of my favorite winter poems, Stopping by Woods on a Snowy Winter Evening by Robert Frost:
Whose woods these are I think I know.   
His house is in the village though;   
He will not see me stopping here   
To watch his woods fill up with snow.   

My little horse must think it queer   
To stop without a farmhouse near   
Between the woods and frozen lake   
The darkest evening of the year.   

He gives his harness bells a shake   
To ask if there is some mistake.   
The only other sound's the sweep   
Of easy wind and downy flake.   

The woods are lovely, dark and deep,   
But I have promises to keep,   
And miles to go before I sleep,   
And miles to go before I sleep.   

And miles to be go before I sleep… Happy Running!