Though her siblings, cousins, in-laws, and immediate family members were runners, for years Betsy Pelikan sat on the sidelines. After all, she'd broken her pelvis, leg, toe, elbow and hand, torn her ACL and MCL, and struggled with arthritis and tendonitis. She had tried a variety of exercise routines in the past, but nothing stuck for more than a few weeks. But in the back of her mind, the desire to run percolated. As her 50th birthday approached, she decided the time had come. "I suddenly felt that it was now or never for me," says Pelikan. She heard about Fleet Feet's No Boundaries training program for beginners, and decided to give it a try. In her first year, she ran six 5-Ks, signed up for the Beach to Beacon 10-K, and got into a regular running routine. But the rewards have endured well beyond the finish lines.
"More than anything, I now feel like an active person who is living life to the fullest again," says Pelikan. "I want to maintain a healthy, active lifestyle for decades to come and this program has given me direction in how to go about it."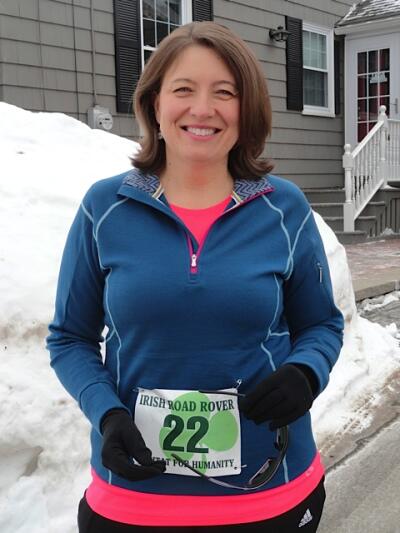 Betsy Pelikan
Age: 50
Hometown: Portland
Occupation: Educator
Family: Husband, Craig, and two daughters, Annette (19) and Maggie (17).
Favorite running-related quote: "Whether you believe you can or believe you can't, you're probably right." - Henry Ford
How and why did you start running: Over the years I had heard about Maine Running Company's Couch-to-5K program (now called Fleet Feet's No Boundaries program) and I had always been intrigued. I was ready for something different, as was a friend, so we decided to join together.
What is the most rewarding part of your running life? Without a doubt, the social aspect of this program. It's not only the most rewarding part, but also the factor that has kept me running consistently this past year. In addition to the weekly group run, I also meet up twice a week with two friends to run around Back Cove. If I didn't have plans to meet them there, I'm sure there would be many days that I'd be tempted to skip it. They keep me honest. The weekly runs with the larger NoBo group are also great fun. I've met so many fantastic people through this program. The structure of NoBo's three days a week schedule works well for me. I now add in the stationary bike, some upper body strength training, and core work a couple of days a week, plus stretching every day.
What is your most memorable racing experience? My first race, last year's Portland Sea Dogs Mother's Day 5K. Everything about it was perfect: the gorgeous, sunny day; the exciting atmosphere; running with my NoBo group (we went at our own paces, but we met afterwards to celebrate – it was the first 5K for most of us); our coaches, Denise, Doug and Roger cheering us on along the route and taking photos; my family shouting my name as I approached home base in Hadlock Field); and the fact that I finished!!! I felt the hugest mix of satisfaction, happiness and pride afterwards.
What would you tell someone who is considering starting to run, but on the fence? I had so many concerns when I started. I'd never run before so how could I be expected to run with a group? I felt out of shape. I certainly didn't have a runner's build, and I was worried about being left behind. And I'd had so many prior injuries. I was nervous when I showed up to the first day of training. And I was relieved to learn that almost everyone else there was apprehensive as well. The program started off slowly. Those who wanted to run started by alternating between walking for four minute and running for one minute. Those who wanted to walk continuously could do that as well. This allowed everyone to experience that feeling of accomplishment right from the start. In addition to the three official coaches, there were also several mentors who had gone through the program and were now there to help others. The abundance of support meant that no one ever had to be alone – we never had to worry about being left behind since there was always a coach or mentor at the back of the pack. Everyone was encouraged to go at their own pace. There was an emphasis on injury prevention – a focus that I especially appreciated since I have broken a number of bones (my pelvis, leg, toe, elbow, and hand), and I have an assortment of knee issues (torn ACL, MCL and meniscus, arthritis, tendonitis). I've learned so much this past year about how to run in a way that works for me: I never run two days in a row; I run slowly; if my knees are bothering me, I run/walk in intervals rather than run the whole distance; I switch to a treadmill when icy; if I increase my distance, I have to do so in small increments; and I absolutely have to spend a good amount of time both warming up ahead of time and stretching afterwards.
How has No Boundaries improved your lifestyle? Because of my prior injuries, I was sidelined and I didn't like it. I love having goals to work towards. I'm now signed up for the Beach to Beacon 10K training program. I've become more conscious of my mental and physical health. My eating and cross-training have improved as well in an effort to help with my running. Whether it's because of regular exercise, improved eating habits, being outdoors more, or a combination of those factors, I now have much more energy and increased enthusiasm towards anything that I come across in daily life than I did before No Boundaries. I can't truthfully say that I enjoy every moment of running while I'm doing it – in fact, I still spend the first few minutes of every single run thinking that this will be the day I quit. But I now know that running is more about what's in my head than what I'm actually physically capable of doing, and the feeling of accomplishment that I get when I'm done with each run is simply the best.