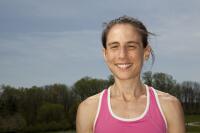 Happy New Year! We're endeavoring to make the Maine Running blog a resource  for all things running-related in Maine. Here you'll find the information you need on training, nutrition, injury-prevention, and local running-related events, along with the inspiration you need to stay motivated all year round. We'll regularly feature many of the outstanding and inspiring runners in our area. (Interested in sharing your story? See the form below).
Like Fleet Feet Maine Running, we hope to have something for runners at all levels of experience and fitness - whether you're taking your first strides, or finishing first on race day.
To do that, we'll need to hear from you. What do you want to learn about? What issues do we need to address? Would you like to share the story of how running changed your life? Are you inspired by a local runner that merits the spotlight? Tell us what you want to see in the Maine Running blog! 
For the most part, the person behind the blog will be me, Jen Van Allen. I have written for daily newspapers, magazines, and digital channels for 18 years. I spent the past six years at Runner's World.  I have written two books about running, and am at work on my third.  (Learn more about me here.) In April, my husband, son and I moved to the Portland area for the same reason a lot of people do - to get a quality of life that just wouldn't have been possible back in Philadelphia. And we love it here.
And I love to run.  I firmly believe that no matter how fast or far you go, running is the quickest way to improve your health, your outlook, your day, and your ability to bring your best self to the people and causes you care most about. I feel very grateful to have discovered this sport, as it has given me adventure, friendship, and strength I could have never thought possible.
Share your story! Or tell us about an inspiring person you know. Please use the questions below, and include a photo when you email us! 
NAME
AGE
OCCUPATION
HOMETOWN
FAMILY
HIGHLIGHTS OF YOUR RUNNING LIFE (notable milestones, PRs, long distance races.)
GO-TO PIECE OF GEAR
RUNNING MANTRA
WHY DID YOU START RUNNING?
WHAT'S THE BIGGEST OBSTACLE TO RUNNING AND HOW DO YOU GET OVER IT?
WHAT'S THE MOST REWARDING PART OF YOUR RUNNING LIFE?
WHAT ADVICE WOULD YOU GIVE TO A BEGINNER OR SOMEONE JUST STARTING OUT