I am pleased and excited to announce the addition of former Runner's World Editor, Jen Van Allen, who will formally begin to write on our Maine Running Blog this week.  Why am I excited?  Because Jen is renowned as an author, journalist, coach and runner.  Her professionalism and insight to both running topics, such as training and nutrition, as well as the Maine Running community will be a breath of fresh air.  Below is more information about Jen!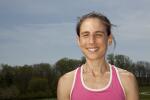 Jen Van Allen is a USATF and RRCA-certified running coach. She has been writing for daily newspapers, magazines, and digital channels since 1996. She spent the past six years working as Special Projects Editor for Runner's World, and writing stories for the magazine. She has written three books, The Runner's World Big Book of Marathon and Half-Marathon Training,  The Runner's World Big Book of Running for Beginners  and The Runner's World Training Journal for Beginners,  She is working on her next book, The Runner's World Guide to Weight Loss, which will be available in stores in January 2016. She also writes for a variety of publications, including The Washington Post, Outside, The Portland Press Herald, MaineBiz, and Real Woman. 
Jen has completed 49 marathons and ultras since 1998. She finished her first marathon in 4:51, her fastest marathon in 3:08, and won the 2008 24-Hour National Championships. She was a member of Team USA in the 2009 24-Hour World Championships. She lives in Yarmouth with her husband Peter  and her 3-year-old son Noah.
Please welcome Jen to our team!  JR