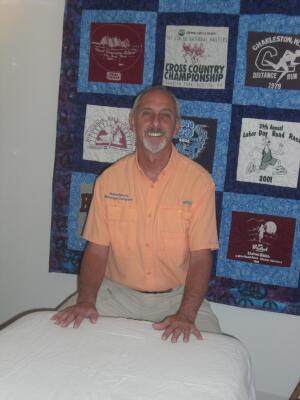 Michael Gaige, LMT, NCTM  - Maine Sports Massage Company
Michael is one of our running coaches and is a Maine and Hawaii licensed massage therapist.  He is also nationally certified in therapeutic massage with a massage room inside our Portland store! 
Michael graduated from the therapeutic massage program at Spa Tech Institute, in Westbrook, Maine, in 2005 and attended the 45 hour CORE Institute Sports Bodywork Certification Program with Bryan Buckley in 2007.  He is a perpetual student, always adding to the variety of techniques he utilizes in his massage practice. 
Being a member of the Maine Running Hall of Fame (inducted in 2000),  Michael specializes in working with runners, triathletes, and many other athletes.  Michael believes sports massage is for runners of all levels of ability and says, "As a competitive runner I found it extremely helpful to receive regular massages to relieve muscle tension, to keep my body in balance, and to be able to maintain my training level without interruption."