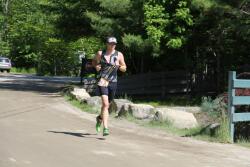 Adam has been with Fleet Feet Maine Running since early 2010. He joined the team soon after moving to Portland. After working primarily in the Portland store for a couple years, a move north to Bath now sees him as one of the store managers for the Brunswick location.
On his time off, time is spent with his wife, Sam, along with time in their hometown of Belfast with friends and family.
Adam is usually doing some sort of training for an upcoming triathlon or road race. Adam has completed over 50 triathlons across New England including being a 5-time Ironman finisher. Marathons tend to be his favorite race, but he is not afraid to jump into races of all distances.
To schedule an appointment with Adam, e-mail adam.smith@fleetfeetmainerunning.com