Fleet Feet Sports Madison is excited to offer runners something different to add to your routine.  Classes will take place at Fleet Feet Sports at 7:30pm on each Monday during February, March, and April except for the first Monday of each month (Fleet Feet staff meeting!)
Yoga 4 Runners is a yoga flow (vinyasa) class that incorporates breath (pranayama) and traditional yoga poses (asana) to target the areas runners need most : stretching the legs, strengthening the core, toning the arms, and sharpening the focus. Class will be 60 minutes long and is open to runners and yogis of all levels. Props, such as blocks and straps, are highly encouraged. Please bring your own mat, small hand towel and bottle of water.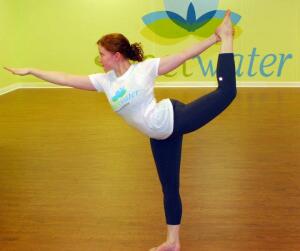 Instructor Bio: Daniell earned her 200hr Vinyasa Yoga certification in 2012 through study with Rolf Gates. Her passion for yoga helps her to feed her passion for life. Through her personal mantra "Shine Here Now" she develops not only her outlook on life, but also her class structures, helping her students find their inner strength and empowerment to shine their beauty out in to the world. She believes all yoga starts with strong breath, and attention to the details, which brings a special finesse to her classes. Daniell is proud to bring yoga to athletes of all disciplines, especially runners (she's partial to runners as she's one, too)! Previously she has taught Yoga 4 Runners at Fleet Feet Orlando to runners and yogis of all levels, as well as corporate classes and studio work. While keeping things light-hearted and fun, she loves to work the core and challenge her students to be the best them they can be each day, both on and off the mat, on or off the trail. She can't wait to see you at the Fleet Feet Madison!