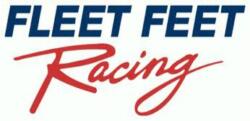 2013 Final Racing Team Standings
2013 Final Triathlon Racing Team Standings

Fleet Feet Sports Madison Racing Team - New for 2013!
Inclusion of Sprint and Olympic Triathlon internal team scoring
More discounted Racing Team gear including a custom Fleet Feet Triathlon Jersey and Short Sleeve Warm-up
More focus driven workouts including Heart Rate Monitor Training!
Social activities at target events
Make-up workouts in the event of cancellation
Trail Running
Register Online -Closed for 2013

SUBMIT A RUNNING RACE RESULT- Closed
SUBMIT A TRIATHLON RESULT- Closed

---
 Fleet Feet Sports Madison Racing Team
The goal of the Racing Team is to help each team member maximize their ability with year-round training opportunities focusing on local and regional races. Our athletes range in ability level but are all committed to training, racing, and Fleet Feet Sports. Team Members support each other, promote our store, demonstrate good sportsmanship, and give back to the running community. In addition to practicing and competing as a team at events, we will also compete internally using an age/sex grading formula (WAVA) for some great end of the year prizes from our vendor partners.
All team members receive weekly emails detailing workouts, meeting locations, social events, discount codes, coupons, and more!
Team Eligibility:
Anyone can join the Fleet Feet Racing Team.  You do not have to be fast, or run a particular distance, or be a certain age.  We just ask that you be dedicated to the sport, our store, and the team. Thus, our only requirement is that you wear your Fleet Feet Racing gear when training and racing.  Most of all, we hope our team members continue to enjoy running and HAVE FUN!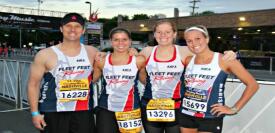 Benefits of Team Membership:
Members of the Racing Team are able to participant in weekly group workouts, enjoy team social gatherings, and receive discount entry into several target events throughout the year.  Not only do members train together, but they race together too.  Carpooling to events, cheering each other on, and celebrating individual victories are all benefits to team membership. Members also receive discount on select Racing Team product and can participate in biannual team only shopping nights with food, drinks, and more discounts!
Team Workouts:
There will be various options for team workouts throughout the year.
Spring/Fall: Speed and Core Strength Workouts:  Each Tuesday at Fleet Feet (March 19 – June 11 & Sept. 3 – Oct. 29) at 6pm.                    
Summer: Track Workouts and Hill Workouts: Every Tuesday – locations will alternate between the Madison Memorial High School Track, Elver Park, and various "hill" locations (June 18 – August 27) at 7pm. Should the Tuesday Racing Team workout be cancelled for any reason during the summer, there will automatically be a make-up session the following Wednesday morning at 6AM during this time frame.
Pub Runs: Thursday's at 6pm (rotating locations) Click here to see a list of our Pub Run locations (updated monthly)
Long Weekend Runs: 1-2x a month – all year

Team and Individual Competition:
When possible we will compete as a team or as several teams in local and regional events.  For the internal individual team competition, we will use WAVA Tables (World Association of Veteran Athletes) which allows us to fairly compute scoring by taking in consideration age and gender.  After running an event you will submit your time and we will calculate your points.  Scores will be saved and added cumulatively for our athletes throughout the year. At the end of the year the cumulative total of your top scores in each distance category will be used to determine the award winners.  You can run as many events as you like and in any category, but only your top times will be used for annual awards. We have added a Triathlon specific category to the competition for 2013!
Time scoring will only be calculated if you are wearing Fleet Feet at the race for which you would like scored. If it is a race that is not one of the 2013 target events, then you must have proof (picture) of yourself wearing Fleet Feet to send along with your time. We will have a Fleet Feet representative at all target events for 2013.
2013 Targeted Events
| | | |
| --- | --- | --- |
| Date | Event | Distance |
| March 17, 2013 | Shamrock Shuffle | 5K & 10K |
| April 20, 2013 | 50K Relay | Team Event |
| May 4, 2013 | Monona 20K | 20K |
| July 27, 2013 | WaunaFest/Capitol Mile | 10 Mile and 1 mile |
| August 17, 2013 | Madison Mini-Marathon | Half Marathon |
| Aug 31, 2013 | Cow Chip Classic | 5K & 10K |
| October 2013 | Gilda's Run | 5K & 10K |
| August 2013 | Good Neighbor Festival | 5K |
| November 2013 | Fall Madison Half and Full | Half & Full Marathon |
 Triathlon - Wisconsin Tri Series Events
| | | |
| --- | --- | --- |
| June 2, 2013 | Lake Mills Triathlon | Sprint |
| June 29, 2013 | WI Triterium Triathlon | Sprint & Olympic |
| July 6, 2013 | Pardeeville Triathlon | Sprint |
| July 28, 2013 | Tri-ing for Children's | Sprint & Olympic |
| September 1, 2013 | Sugar River Triathlon | Sprint |
| September 15, 2013 | Devils Challenge Triathlon | Sprint |
 *Triathlon Scoring:  The scoring system for the Triathlon Category is slightly different than the WAVA Scoring system for running event.  It is based on how your finishing time compares to the winner of your age group.  Here are the steps to calculating your points:
The times for the overall winners of the event are pushed down into their appropriate age groups (if necessary).  
The winning time (converted into seconds) in an age group is divided by the team members time (converted into seconds).  
The result is multiplied by 100 and rounded down.  
EXAMPLE:
The winner of M30-34 raced 1:01:01 (3661 sec) 
Team member raced 1:31:01 (5401 sec).  The team member would earn 67 points -  (3661/5401) * 100 = 67.
The top 2 scores from the Tri Series will be added up for each individuals total (regardless of the distance). 
---
Awards:
Based on cumulative points in the Internal Team Competition, awards will be granted to the top men and women in each of the following distance categories – each winner will receive prize products from the vendor partner shown:
Saucony 5K-Top 3 times
Brooks 8K & 5 Mile- Top 2
Adidas 10K- Top 3
New Balance 15K/10 Mile- Top 2
Nike Half Marathon- Top 2
Mizuno Full Marathon- Top scores
Newton Triathlon – Top 2
Fleet Feet Sports- Overall score winner
---
Annual Team Membership is $75 for new and current members. If you are a new member, you will receive a Racing Team jersey as part of your new membership. Fees cover coaching expenses, administration, and track facilities.
Registration Closed for 2013

For more information email  Megan our Director of Training Programs: dolanm@fleetfeetmadison.com or call the store 608-833-9999.