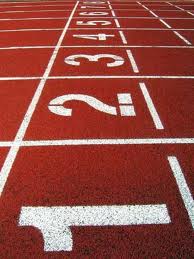 Miler in Training: Track workouts make you a better runner, whether or not you have audacious racing goals.  Miler in Training consists of organized group speed workouts that focus on different types of speed training. A few ways it pays to train in a higher gear include; increased strength, oxygen efficiency, cadence, pace, and overall fitness. By sustaining a comfortably hard effort, you condition your body to hold a faster pace for longer before lactic acid, the waste produced when the body burns glucose, starts accumulating.  Whether you're shooting for a "PR" or just want to challenge yourself, experts agree that track workouts are the most effective way to improve fitness and lower race times. All pace levels welcome.
Mini-Miler in Training: for kids ages 7-11 year olds includes running based games and activities geared toward younger runners. All children participating in the program under the age of 12 must have a parent present at the practices. Practices are held at the same time and place as Miler in Training.
*Capitol Mile race entry not included in training registration fee
Program Duration: June 12, 2012 – July 22, 2012
Goal Race*: Capitol Mile – July 22, 2012
Cost: Adults: $60, Mini-Miler: $40
Meeting Location: Memorial High School Track, 201 South Gammon Rd. Madison 53717
Coached group workouts : Tuesday nights, 6:30pm-7:30pm
Program Deadline: Friday, June 8, 2012
Program fee includes group workout sessions for adults and kids, weekly training emails, and a technical T (adults)/Cotton T (kids).
Registration has closed for this program
Online Registration For Miler In Training (Adults)
Online Registration for Mini Miler In Training (Kids)
For more information or questions contact Megan: dolanm@fleetfeetmadison.com or 608.833.9999