Destination Training 2020
Carlsbad Half and Full Marathon, Double Down, and Surf Sun Run 5K | January 19, 2020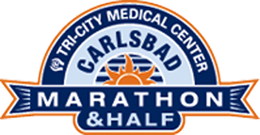 We're excited to announce the 2020 Destination Training Program goal race is in Carlsbad, California! Run a 5K, Half Marathon, Full Marathon, or the Double Down Challenge (5K + Half Marathon). While it's an absolute blast celebrating in a warm destination with your running friends at the end of 10 weeks, you are not required to travel in order to participate in the training program (but it is HIGHLY ENCOURAGED and an absolute blast! - just ask the 50+ people that made the trip in previous years).
INFORMATIONAL MEETING
An informational meeting will be held at Fleet Feet Madison for those that would like more information on the program. You will receive additional information on registration, group events, hotel information and reservation, and any other questions you have regarding the trip or training program.
Date of Meeting: Tuesday, October 22 – 7:00PM (FF Madison)
RACE INFORMATION
Goal Race: Tri-City Medical Center Carlsbad Half and Full Marathon January 19, 2020

Team Race Discount Code: FLEETFEET (15% OFF Full, Half or Double Down Challenge)

When registering, make sure you register under the "Fleet Feet Madison" Team! If we get 30 or more team members, we get our own tent at the start/finish line!
Packet Pick-Up: The Shoppes at Carlsbad: 2525 El Camino Real Carlsbad, CA 92008
Friday, January 17 (12:00pm – 5:00pm)
Saturday, January 18 (10:00am – 5:00pm)
Race Start:
5K: 6:45am
Half Marathon: 7:45am
Full Marathon: 6:15am
Course time limits:
5K: 1 hour
Half Marathon: 4 hours (18:19 minute-per-mile pace)
Full Marathon: 6 hours (13:44 minute-per-mile pace)
Double Down Challenge Option: Double down on race day and kick off your morning at 6:45 a.m. with the Surf Sun Run 5K then finish it off with the 7:45 a.m. Carlsbad Half Marathon. To be a part of this 16.2 challenge, just choose the Double Down Challenge during registration and on race day earn triple bling – your 5K, half marathon and Carlsbad Double Down Challenge medal!
TRAINING PROGRAM:
Program Cost: Fitvil Online Registration Open

Early Bird Discount: $85 (until October 28, 2019)
Regular: $95 (October 29, 2019 – November 11, 2019)
Late Registration: $105 (November 12, 2019 and after)
*Entry into the race is NOT included in program registration cost
Training Program Registration Deadline: Monday, November 11, 2019
Program Duration: Wednesday, November 13 – Sunday, January 19
Kick-Off: Wednesday, November 13, 2019 – Fleet Feet Madison @ 7:15pm
First Group Run: Saturday, November 16, 2019 @ 8am
All paid participants will receive their first group email by November 11. Weekly emails will be sent on Monday afternoons and will supply all the information needed for each week of training.

Training Plans: You will have the option of 3 training plans. Register for the training program by October 28th and receive a full 12-week training plan.
Half Marathon Completion/Performance Plan
Full Marathon Completion/Performance Plan
Double Down Challenge Plan
Races: We encourage runners to participate in the following fall/winter races for some extra fun and motivation!
Berbee Derby – 5K or 10K on Thursday, November 28 (Join the Fleet Feet Team!)
Run Santa Run – Sunday, December 8
New Year's Day Dash – January 1, 2020
Group Runs: Coached and supported group runs will take place on SATURDAY mornings at 8AM at varied locations around the Madison area. We encourage all participants to also take part in weekly fun runs for mid-week mileage. This will give you multiple options to get your runs in with a group throughout the week (the key to success in winter running!).
Wednesday night fun runs @ 6pm – meet at FF Madison and FF Sun Prairie
Thursday night fun runs @ 6pm (west) 6:15pm (east) – rotating pubs around Madison – west and east locations available. See website for meeting locations.
Base Mileage Recommendations:
These recommendations are in place to help you stay safe, healthy, and injury free throughout the winter season. Due to the duration of this program (10 weeks), programming is designed to build on an existing fitness foundation. If you have any questions or concerns about these recommendations, please contact Coach Megan.
Half Marathon/Double Down Challenge: 6 mile long run, 10-15 mile weekly average (we recommend you be able to comfortably run 4 miles 3-4x/week at the start of training).
Full Marathon: 12-14 mile long run, 20-25 mile weekly average
Running Experience and Pace Recommendations:
We recommend that all participants have successfully completed a half or full marathon prior to this program.
For those interested in FULL MARATHON TRAINING – we highly recommend you be able to maintain an average 12 min/mile pace before registering for the full marathon program.
Other aspects of the Training Program include:
Weekly emails providing motivation, coaching, and advice for your training
A complete 12-week training plan leading up to the Carlsbad events
Coached and supported group runs on Saturday mornings
Fun run options at both FF Madison and FF Sun Prairie to help you stay motivated mid-week
Valuable Fleet Feet coupon book with discounts on such items as apparel, winter accessories, socks, shoe traction, and other winter running gear to help you train successfully
Electrolyte and nutrition samples
Vendor partner wear tests and giveaways
Winter beanie
Group hotel discount and organized group agenda/activities while in Carlsbad
Educational workshops to supplement your training
Discounted registration into winter events from Race Day Events LLC
50% Off Run Santa Run
50% Off New Year's Day Dash
(1) Complimentary individual Pinnacle Indoor Tri
Discounted race entry into the Carlsbad half and full marathon; Double Down Challenge
Motivation and camaraderie to get outside in the winter and run (IT CAN BE DONE – even in Wisconsin!)

---
TRAVEL:
Travel Days: January 17, 2019 – January 20, 2020 (3 nights, Fly In: Friday, Fly Out: Monday). This is the time frame that was negotiated with the hotel for the group rate. If participants are interested in extending their stay, you may do so subject to availability of rooms at the time the reservation is made. Group rate is available for add on dates (2 days) to either side of the reservation.
Flights: Each participant is responsible for booking their own flight. We recommend flying into the San Diego International Airport (SAN) and renting a car or carpooling with your fellow trainees to Carlsbad (35 miles). We can help you make these connections throughout training.
LODGING:
Hotel: Holiday Inn Carlsbad – 2725 Palomar Airport Rd, Carlsbad, CA 92009.
Runner Benefits:
Complimentary expo and race day shuttles
Saturday night pasta dinner
Race day morning grab and go breakfast
Complimentary Self-Parking, Wi-Fi and Fitness Center
Room Group Rate: $135/per night + taxes.
Sharing a room with other participants is a great option for those who are budget conscious. We can help make these connections as reservations are being made. Room options include either 2 queen beds, or 1 king bed.
Check in time: 3:00pm
Check out time: 11:00am
Deadline to Submit Hotel Reservation Form: December 1, 2019 (no exceptions!). Forms need to be submitted to Megan Sweet (sweetm@fleetfeetmadison.com) at Fleet Feet Madison (8440 Old Sauk Rd). You can email or drop off the registration form with her attention. We only need 1 hotel form per room reservation (i.e. only one person in each room needs to fill the form out).
Important Hotel Notes: We have a block of rooms on hold for our group. Once our block is full, all additional room reservations are subject to room availability at the hotel (although our group rate will still be honored if booked as part of the training program). Once you are committed to the trip and know your travel dates, please turn in your hotel reservation forms to Megan Sweet at Fleet Feet Madison (sweetm@fleetfeetmadison.com) by December 1, 2019. Rooms will be booked on a first come, first serve basis until our block is full. We will then book additional room reservations as needed based on room availability. Family and friends who are not training or racing are welcome to join you on the trip.
If you wish to deviate from the negotiated nights listed above (Friday - Monday) it is to your advantage to turn in your room reservations in ASAP since extra nights are subject to room availability. Room rate is honored two (3) days pre/post over contracted event dates.
TRANSPORTATION:
You are responsible for your own transportation from the airport to the hotel and vice versa. The best option is to split this cost with other participants with a car rental or other mode of transportation. Once everyone has made their flight arrangements, we will combine all flight information to help you make carpool connections. The San Diego International Airport (SAN) airport is approximately 35 miles from the hotel. We also have a private Facebook group that can be used to communicate with other participants while in Carlsbad.
DINING:
There will be two organized group dinners while in Carlsbad. One will take place early Saturday evening (January 18) and another Sunday night (January 19). You are responsible for finding your own meals for the remainder of your stay. Meal cost is not included in training program registration.
For more information about the 2020 Destination Training Program:
Fleet Feet Madison: 8440 Old Sauk Rd. Madison, WI 53562
Director of Training Programs: Megan Sweet: sweetm@fleetfeetmadison.com P: 608.833.9999
**Special Thanks to Linda Rothberger from Rothberger Travel for her continued support of the Fleet Feet Destination Training Program**
Destination Training 2020 More Info »
Program Start: Wednesday Nov 13, 2019
Program Schedule: Wed Eve & Sat Mornings
Program Fee: Early Bird Discount: $85 (until October 28, 2019) Regular: $95 (October 29, 2019 to November 11, 2019) Late Registration: $105 (November 12, 2019 and after)
Description: We are excited to announce the 2020 Destination Training Program goal race is in Carlsbad, California! Run a 5K, Half Marathon, Full Marathon, or the Double Down Challenge (5K + Half Marathon). While it?s an absolute blast celebrating in a warm destination with your running friends at the end of 10 weeks, you are not required to travel in order to participate in the training program