NEW

--Fleet Feet Winter Warrior Training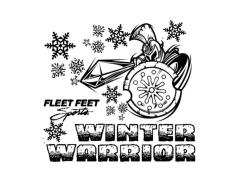 This winter Fleet Feet Sports will build you into a WARRIOR! Whether you're a new runner looking to maintain your current fitness level, or a seasoned athlete who needs motivation to get outside this winter, this is the program for you! With the accountability of your team, the holiday slump will be non-existent!
You will be provided a full 9 week training plan which includes once a week group runs with your fellow Warriors, full body strength workouts which can be done at home with no equipment, and more to help you towards a goal race at the 2015 Madison Shamrock Shuffle 5K/10K benefiting the Boys and Girls Club of Dane County.
Each week will include a group run on Sunday morning at 9am leaving from your nearest Dane County Fleet Feet Store front (think bathrooms and a warm place to start out of) and one mid-week group seminar. These seminars will be informative, interactive, and most importantly FUN! Everything from nutrition, yoga, and winter running form to strength and conditioning will be covered to help you learn how to not only be a safer runner but to be a stronger WARRIOR.
Weekend runs are coordinated on time and effort level – so all levels of runners are welcome! The strength portion of the program will be done individually with the opportunity to win Warrior of the Week by checking in on Facebook to keep you accountable, connected, and driven. There will be prizes given at the end of the program for MVW (Most Valuable Warrior), Wildest Warrior, and more.

We would like to help our participants understand the wide world of fitness and develop well rounded, informed, and strong Warriors by the end of our training!
Informational Meetings: Learn more about program specifics and ask questions you may have.
Wed, Dec 10 @ 7:15pm (Fleet Feet Sports Sun Prairie)
Sat, Dec 13 @ 8:30am (Fleet Feet Sports Madison)
5K/10K Winter Training Program
Program Duration: Jan 7, 2015 – March 15, 2015
Program Kick-Off Party: Wednesday, January 7 @ 7:15pm
Goal Race: Madison Shamrock Shuffle 5K or 10K on March 15, 2015
Program Cost*: $69 (until December 22, 2014), $84 (after December 22, 2014)
*Race entry is NOT included in the training program registration.
Registration Deadline: Monday, January 5, 2015 REGISTER ONLINE

Program Perks to help you reach your Warrior Status:
Winter Training Coupon Book to help you gear up to brave the elements
9 week training plan with indoor and outdoor workouts
Weekly training emails from your coach to keep you accountable and focused
Attendance Incentives
Coached and supported runs on Sunday morning
Optional Fun Run Wednesday evenings 6PM (Sun Prairie), 5:45PM (Madison) and Thursday evenings at 6PM (both Madison and Sun Prairie)
Discounted race entry into the Shamrock Shuffle
Team Tech Shirt
Team Meeting Locations (Sundays @9am):
Fleet Feet Sports Madison: 8440 Old Sauk Rd Madison, WI 53562 (WEST)
Fleet Feet Sports Sun Prairie: 2828 Prairie Lakes Drive, Sun Prairie WI 53590 (EAST)
Please contact Coach Anna with questions: anna@fleetfeetmadison.com