Annual FITNATIC Celebration
Opening Weekend:  Friday, November 27th- Sunday, November 29th
When You're A FITNATIC You Get it.  WE GET YOU!
It's here! A celebration of runners, walkers and fitness enthusiasts that want to shop the busy holiday weekend! 
We will be offering specials throughout the entire weekend at both stores. 
Come celebrate and shop with us!
FITNATIC 25s are BACK - November 27th-29th, 2015! For every $100 you spend (pre-tax), you will receive a *FITNATIC 25, valued at $25, to use on a future purchase at Fleet Feet Sports Madison or Sun Prairie. 
In addition, you will earn **Personal Reward Points!
What to Expect FITNATIC Weekend:
Buy 2, Get 1 Free Smartwool and Balega Socks
$10 Off All Sports Bras
20% Off Select Timex, Garmin and Tom Tom Products
Addaday Massage Rollers - Gift with Purchase over $40.00
Buy 3, Get 1 Free Nuun Hydration
Wetsuit Clearance 65% Off 2014/2015 wetsuit rental fleet Madison store only ($100-$165)
New Markdowns on Select Apparel (20%-50% Off)
Everyone who makes a purchase will be eligible to win great prizes!
Fun Staff working both locations!
New this Year! You will earn a FITNATIC 25 when you register for our Force of Orange Training Group November 27th-29th! FITNATIC Weekend is a perfect opportunity to encourage a friend to try one of our training groups, to be FIT for new shoes or come in and meet our Fleet Feet Team. We will have a full crew working over the weekend! And don't forget, the Force of Orange Training Program offers a 10K, Half Marathon or Marathon option. Click here for more details about all our training groups.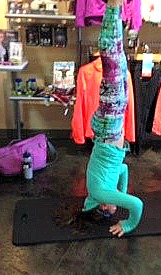 The FITNATIC in your life wants to look and feel good before, during and after exercise. Here are just some of the great brands we carry!
Craft
Nike
New Balance
Dona Jo
Mizuno
Brooks
We also have an abundance of stocking stuffers and holiday gifts under $30 for the FITNATICS in your life! 
Giftcards
Nathan clip light
Ice Traction – Pete's Fave!
FlipBelt – Jessica's Fave!
Ornaments
Headlamp
Crafty Night Owl Headband – Megan's Fave!
Nathan Water Bottle – Kim's Fave!
Balega Hidden Comfort Socks – Matt's Fave!
We want to make the shopping experience as seamless as possible, so we will have plenty of staff ready to assist you. In addition, we have gift boxes and tissue so you can start your wrapping prep at Fleet Feet Sports.
We understand you may be out of town over the holiday weekend, but you can still shop with Fleet Feet Sports! This is our first holiday season that you can shop before and after store hours. You are welcome to shop fleetfeetsports.com  24/7!   So many choices! Luckily, there are seven days in a week to exercise and wear great gear.
Matt and Jessica are excited to spend another holiday season with friends, family and the great fitness communities of Madison & Sun Prairie!
Happy Holidays from the Fleet Feet Sports Team!
---
*Limit 3 FITNATIC 25's per account. All sales final (in order to keep the rewards and FITNATIC 25s). In-stock merchandise and pre-paid purchases only. Specials are offered while supplies last November 27th-29th, 2015. Not valid on fleetfeetsports.com. Offer valid at Fleet Feet Sports Madison and Sun Prairie only. **Every time you spend $150 at Fleet Feet Sports Madison & Sun Prairie, you receive $15 off your next purchase.