Air Relax Now available at Fleet Feet Madison & Sun Prairie
Air Relax uses the most advanced digitally controlled air pressure system to provide dynamic compression to limbs compromised by poor circulation.
Compression devices were once only for the exclusive use of patients with serious muscular and circulatory disorders such as lymphedema, venous insufficiency and P.A.D, and only available by prescription. Today, Recovery pumps and compression sleeves are used by sports teams, universities, physical therapists and professional athletes to treat their injuries and enhance their training.
We debuted this product at the 2017 Madison Mini Marathon with outstanding Feedback!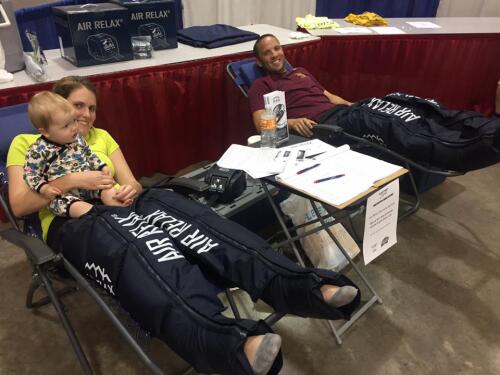 Most athletes are interested in reducing their recovery time following intense exercise or sporting events. Recent scientific studies have shown that lymphatic therapy provides physiological changes that indicate improved muscular recovery. The lymphatic system does not have a pump like the heart does. Air Relax delivers that natural sequential compression and flusher waste, which causes soreness and fatigue in the muscles.
"The Air Relax compression are my new favorite tool. After a 12 or 6 hour MTB race, I slide the sleeves on and let the air compression refresh my legs. A very simple to use machine that gets the job done and anyone can afford." - Robert Sandoval - Bike Sport Radio, Endurance Sport Athlete. 
Maximizes the ability to refuel, re-hydrate, relax, and recover
Helps to integrate effective daily recovery into training program
Provides the competitive edge to reduce muscle fatigue
Boosts your performance and takes you to the next level
Rent some time with the Air Relax !
The Relaxation Station at Fleet Feet 
If you'd like to see how Air Relax work for you, try it before you buiy it!  Reserve a 45 minute time slot for $10 at either store by calling the store directly.  Time slots are availble Monday - Friday between 11 am and 3:30 pm.  If those don't work for you please let us know and we can schedule another time.  Please call Madison 608-833-9999 or Sun Prairie 608-834-9999.