The weather has turned finally!  Join us this week.
Wed May 8- Free 2-5 mile group fun run, Fleet Feet Sports, 5:45pm
Thur May 9- Free Sprecher's 5 Mile Pub Run with the Madison Mini Race Director.  John Q. Hammonds Dr, 6:00pm- Find out more about the August Madison Mini Marathon or the training program.  Wear your past Mini gear for a chance to win a prize.  Social hour follows.
Thur May 9- Event- Fleet Feet Trail Run Series, Cam Rock Trail, Cambridge. 7:00pm
Sat May 11- Event- It's Glow Time, Alliant Energy Center Madison, 8:00pm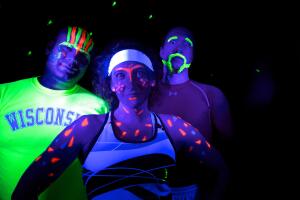 It's going to be a great week!
Chuck Simon
Fleet Feet Sports Madison
chuck@fleetfeetmadison.com
Follow Us on Facebook and Twitter
Triathlon Club Party Time!  Time for FFMC to represent!  

On Thursday, May 16th at 7:30pm, Fleet Feet Sports Madison will host their second Madison Area Triathlon Club Party at the store.  We are inviting local clubs and coaches to come in and provide information on their clubs and coaching services, while eating, drinking and giving things away!  It is also a club appreciation party, so if you are a member of a tri club - please come!  If you are interested in becoming a member of one or more of these clubs, this is your opportunity to see what the Madison Area has to offer - camaraderie, workouts as a group, travel to races, and more! 

Fleet Feet will offer a fun run sponsored by Race Day Events before the party at 6pm.  It will be a 5 mile loop, starting and ending at the store.  After the run, snacks and beer will be provided.   
 
Race entries, apparel, and giftcards will be given away later in the evening, and more information on the Wisconsin Tri Series and the "Battle of the Tri Clubs" will be provided. 
 
RDE has done a "Battle of the Tri Clubs" the last two years at their races to try to foster some friendly competition between the tri teams in our area. They're bringing it back again this year. Details will be given that night. 
 
We hope your team will join us at the party!