Hope you had a great Memorial Day weekend.  Good luck to our No Boundaries participants as they compete in their goal 5K race at the Komen Race For The Cure on Saturday. Hope you can join us this week!
Wed May 29- Free 2-5 mile group fun run, Fleet Feet Sports, 5:45pm
Thur May 30- Free Capital Brewery 5 Mile Pub Run & Nike Free Test Run- Terrace Ave, 6:00pm Join us for our weekly pub run and get a chance to run in some Nike Free running shoes.  Wear Badger red, red apparel or Nike gear for a chance to win some prizes.  Social hour follows.
Thur May 30- Girls Run This Town Night, Fleet Feet Sports, 7:30pm- Option to run 5 mile pub run at Capital Brewery or bike with the LunaChix at 6:00pm from the store.  RSVP Email jessica@fleetfeetmadison.com
Sat June 1- Event Sawyer Crossen Memorial Kid's Tri, Monona Community Pool, 8:00am
Sat June 1- Event Komen Race For The Cure, Willow Island, Madison, 8:20am
Sun June 2- Event Lake Mills Triathlon, Sandy Beach Park, Lake Mills, Sprint Distance, 7:00am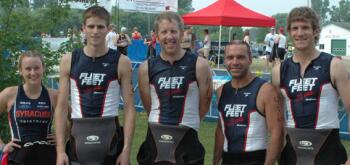 It's going to be a great week!
Chuck Simon
Fleet Feet Sports Madison
chuck@fleetfeetmadison.com