Another Monday.....Hope to see you this week!
Wed Jan 15- Free 2-5 mile group fun run, Fleet Feet Sports, 5:45pm
Thur Jan 16- Free Free House 5 Mile Pub Run, Parmenter & Elmwood St., Middleton, 6:00pm-Social hour follows
Sat Jan 18- Good Form Running Clinic I, Fleet Feet Sports, 8:30am.  Clinic is free but please RSVP via our website link
Sat Jan 18- Event Challenged Athletes Foundation Charity Spin Ride,  Speed Cycling, 10:30am- 12:30pm- RSVP at dhilz5224@gmail.com Or Call 608-843-4472.
Sat Jan 18- Event Freeze for Food, Vilas Park Shelter, 12:00 noon-All proceeds go to the Colombia Support Network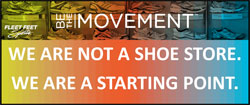 It's going to be a great week!