SKIN STRONG
at Fleet Feet Sports Madison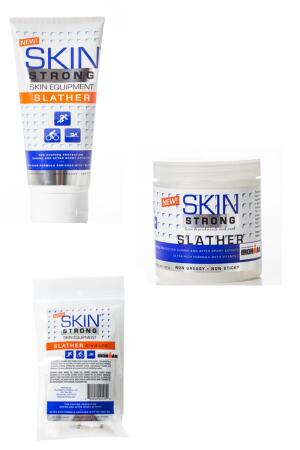 Skin Strong is a line of anti-chafe products. Skin Strong products are formulated with a unique combination of ingredients including vitamins and essential oils that are important for the health of your skin. The hypoallergenic properties minimize irritation and allow you to perform at your highest level. Each of our products have undergone rigorous field testing and have proven to be safe and effective. At Skin Strong we believe that you can be strong and be comfortable.
SLATHER (Anti-Chafing Cream):
Unbeatable protection against chafing and hot spots,  yet, gentle enough for the most sensitive skin. Contains Tea Tree Oil. Subtle cooling formula – Fresh signature scent                      
Just a few great uses for SLATHER:
Long lasting chamois cream
Prevent blisters on feet
Prevent chafing on inner thighs
Soothe tired skin after a hard work out
Can even be used for chafed skin that developed after you forgot to SLATHER first!
Official Product of Ironman
SLIK (Anti-Chafing Spray):
Friction and anti chafing cream protection in a convenient spray formula. Simply spray on without getting cream on your hands.
Non-greasy and non-staining                                
Fresh signature scent.
Official Product of Ironman
Just a few great uses for SLIK:
Prevent chafing on inner thighs and under arms
Prevent chafing under heart rate monitors, under sports bras, and clothing seams
For use under wetsuits for anti chafing, chafing prevention and quick removal
Spray on feet for quick transitions in short distance triathlons
SLIK DUST (Anti-Chafing Powder):
SLIK DUST prevents hot spots and blisters. This Teflon based anti chafing powder provides long lasting protection in a convenient bottle. The anti-fungal ingredients, Tea Tree Oil and Tolnaftate, will keep your feet strong and healthy (and no more smelly shoes!)
Features / Benefits
Reduces friction, blisters and hot spots.
Moisture wicking
Non-staining and non-greasy
Official Product of Ironman
Important Tips
DUST is not a talc or cornstarch base powder, instead of  sprinkling or shaking, you will squeeze to apply DUST evenly.
Teflon can sometimes coat the holes in the bottle like it coats your feet.  Simply tap the bottle on a counter a couple of times to clear the holes.
Since DUST will not break down, your feet will have a powdery coating even after a long work-out.  It is a good idea to keep a towel by your door to clean your feet before walking on your floors!  (This tip has saved many relationships)