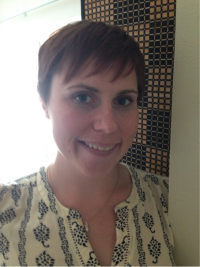 Lauren Fuller: 10K Run Mentor!
I always put my "busy schedule" before my health, fitness, and (ultimately) happiness. When I did have free time between my full time job and going to graduate school, I say that I was too tired to take a walk or run. I kept hearing that going for a walk or run would give me more energy, and help increase my focus. I didn't believe it! I thought the people who said that were full of malarkey! Until I walked to work one day. That little extra jolt made the day so much better. I started the day more energetic, and my mind was clear. I was hooked.
When I saw the No Boundaries program at Fleet Feet, I knew this was the perfect way to develop a routine, meet new people, and develop new physical and mental capabilities. I signed up for the 10K run/walk, and now know it's one of the best decisions I have ever made. I want to be mentor to assist others in having their own "AHA!" moment, and bring them in to the running community.
I think being very aware of the participants of the program, and recognizing the milestones they have every week, makes a great mentor. Every week, everyone has achieved an accomplishment! And it is very important to acknowledge that, as it boosts confidence and makes running more approachable- which is the way it should be! This type of personal attention is something that comes natural to me, and I will be there to remind participants that each run is worth celebrating.
---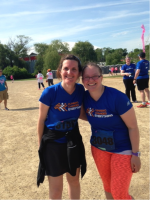 Kirsten Pollock: 10K Run Mentor!
I started my running journey about a year ago with my first NOBO in the Fall of 2013. I had been interested in running but thought it was something that other people did. I certainly could not picture myself as a runner. I had tried to train for a 5K on my own and came up with excuses or started to have pain so I stopped. I think that what this program has done for me is show me that if you have a goal anything is possible. Through this program, I have met many people who have completed the program multiple times and keep coming back for the encouragement, support and routine that this program offers. I can truly say that one of the most important parts of my NOBO experience has been the encouragement that I received from my mentors. I am hoping that I can help provide that to other participants. I feel that it is important to remember that everyone is on their own individual journey but we can all help each other get there.
---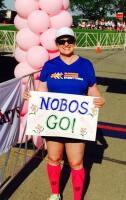 Pam Egan: 5K Walk Mentor!
I am a "Pre-Title Nine gal" born long before the implementation of equal rights for women in sports. I was always an active girl, loving the outdoors – biking, swimming, skating, skiing, running and walking from here to there. But no training or coaching to improve.
I came into the store one day in early February to buy another sport bra – my favorite place because they carry my size! I noticed the flyer on the counter and asked for more information. After a short conversation, I was hooked. 
Training for and completing a 5k has been on my Bucket List for many years – 30's, 40s, 50's and now 60's. I had thought I could sort of begin with my kids as they grew. That didn't happen! What I was missing was a group to follow along with, where I could work at my own pace within a training program. I could grow with the program. What I have learned so far with my participation has been that exercise is more psychological than physical – at least for me. What the mind believes, the body will follow! Of course proper clothing, water, injury prevention and training are also necessary.

The Mentors who have had the biggest impact with me were the ones who could identify with my intense struggle to begin and continue with such a huge goal for me. There was no negative or pressuring judgment of me. I want to be that kind of Mentor for another.