Mary Drifke: 5K Walk Mentor for No Boundaries Training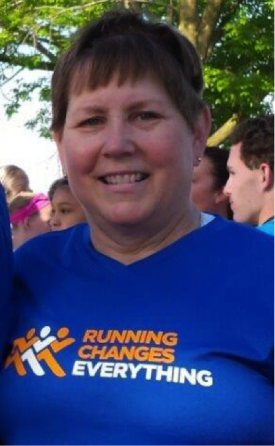 I have been involved in the No Boundaries program since 2011. That's right – I'm a serial NOBO participant & mentor. (I think I may be addicted to NOBO, too.) At first I wasn't sure if I'd like the program. I had to drive across town twice a week, which is quite a haul. A friend recommended I go to Fleet Feet to buy a pair of walking shoes. I heard about No Boundaries when I came into the store. Heck, it even took me the better part of the 12 week program to learn how to program my watch for intervals! But after a few weeks in the program and getting to know people I started to enjoy it. I completed my first goal race, and I was hooked. The second time I participated I moved to the run/walk group. Running was tough for me since I'm not a spring chicken and my weight isn't where it should be. But I stuck it out and found I could run – at my pace.
The next year I mentored, first with the walk group then with run/walk. I ran my first 5k – no walking. Again, I did it at MY pace. (Did I mention my self-given nickname is Turtle?) The past year has been tough health-wise. I fell last summer and sustained significant injuries. I came back to fall NOBO as a participant in the walk group, moving to run/walk as soon as I was cleared by my doctor. This summer I had shoulder surgery, and participated in the walk group. I moved to run/walk as soon as I was cleared to run. It's definitely been a journey and a challenge.
No Boundaries has played an important role in it. I believe I am stronger mentally & physically because of it and that has made my recovery possible. The support of the mentors, coaches & participants has helped me get to where I am today. I love mentoring because it gives me a chance to give back to the program I love while meeting new people and helping them along their journey. And I'm happy to share my story with you. All you have to do is ask me.