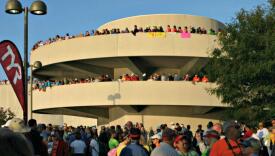 Nothing compares to the triathlon excitement of IRONMAN Week!  Good luck to all competitors and thanks to all the volunteers assisting on Sunday.   For the rest of you, we will be spectating on the big hill at Timber Lane, just north of Old Sauk Road.
We will set up the Fleet Feet Tent, so come and join us during the bike portion - roughly 10am to 3pm.  We will then meet in front of State Street Brats, downtown for the run portion beginning around 4pm.  Feel free to join us at either locations and wear your Fleet Feet gear!
In addition to these spots you can join Jessica and Matt for a long run down to the swim start from the Century Ave. Starbucks in Middleton leaving at 5am Sunday.  This is just shy of 9 miles (we finally mapped it).  We will stay to watch the swim start and then run back around 8:30 or you can arrange for someone to pick you up at the Monona Terrace.

Please RSVP by clicking the Schedule Now button if you will be joining us for the group run portion.