NOBO RUN/WALK MENTORS!

Pam Egan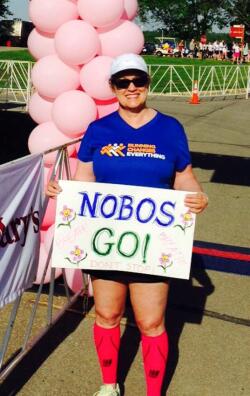 I am a "Pre-title Nine gal" born long before the implementation of equal rights for women in sports. I was always an active girl, loving the outdoors – biking, swimming, skating, skiing, running and walking from here to there. But no training or coaching to improve.

I came into the store one day in early February to buy another sport bra – my favorite place because they carry my size! I noticed the flyer on the counter and asked for more information. After a short conversation, I was hooked.

Training for and completing a 5k has been on my Bucket List for many years – 30's, 40s, 50's and now 60's. I had thought I could sort of begin with my kids as they grew. That didn't happen! What I was missing was a group to follow along with, where I could work at my own pace within a training program. I could grow with the program. What I have learned so far with my participation has been that exercise is more psychological than physical . What the mind believes, the body will follow!

The Mentors who have had the biggest impact with me were the ones who could identify with my intense struggle to begin and continue with such a huge goal for me. There was no negative or pressuring judgment of me. I cannot wait to be that kind of Mentor for another.
Sue Wagner: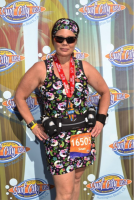 My running inspiration is my 25 year-old son, Brandon, who served our Country by joining the Army right after high school. Brandon endured a challenging deployment to Iraq. After seeing first-hand what he and his fellow Troops went through during the deployment I soon came to realize my life challenges were pale compared to theirs. When I look for inspiration during my running moments, or life in general, I think to myself "if my baby boy (he'd love to hear that term wouldn't he) can endure the rigors of war, I can certainly get through my challenges.

I became part of the NOBO family in the fall of 2013 so I've only been running for 1 ½ years. During this time I have completed many 5Ks and 10Ks. And because of Fleet Feet's great training I was able to complete my first half marathon this past February in sunny California! Being a veteran of the NOBO program has done wonders for me. Not only has it helped me to discover a love of running but it's helped improve my inner emotional strength and self-doubt of my physical abilities.

This is my second time as a Mentor for NOBO and I'm super excited to empower and inspire NOBO'ers in their journey. I look forward to seeing their smiling and proud faces as they cross the finish line at their goal race. I feel honored to help NOBO'ers realize they are capable of achieving their goals.

Fun fact: my shopping habits used to include looking for the latest fashions of sundresses and trendy outfits for the office. Now I shop for the cutest and coolest running shoes and gear!! Did you know they make leopard print running pants? It's so fun out on the running paths. ROAR!

Mary Drifke: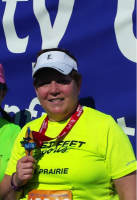 I've been involved with the No Boundaries program either as a participant or mentor for 4 years. I heard about the program when a friend recommended I go there to buy a pair of shoes. It sounded like fun so I thought I'd give it a try. Who knew I'd end up loving to run at my age? (I'm not as young as I look…) Over the course of my time with the program I've met some amazing people – people I'll be friends with for the rest of my life. Running is the thing that is our common bond regardless of where we're from or where we are in our life

I recently trained for and completed my first half marathon through Fleet Feet (same as Sue!) It was the Desination race in Huntington Beach, CA. on February 1. I never thought I'd do a half marathon, but after seeing the finisher medal I was all in! (Bling comes in all shapes & sizes!) I'm currently a participant in the Force of Orange (FOO) program through Fleet Feet, training for the Twilight 10k race in May. I've had a lot of challenges with my health the last 2 years, but NOBO is the one thing that's kept me going & moving. I don't know where I'd be without it!

I hope you enjoy the program as much as I do. Feel free to ask me anything - I'm happy to share my journey with you.