Love The Run You Are With
By: Jessica Anderson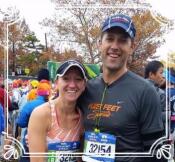 We all have those workouts that don't go as planned. We slept well, took all the right nutrition, the weather was perfect, but the run was terrible. The next time we were sick the day before, worked a long shift or forgot our watch, but the run itself was the best! Remember that not every run will go as we planned, but try to enjoy it anyway. 
So take it for what it is worth, we all have the good and the bad, so log it in your training journal with all the hiccups and triumphs -- it's part of the journey. Love The Run (and the training partner) You Are With!
Happy Valentine's Day!