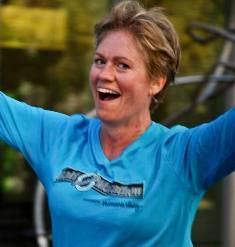 Anne, Louisville Sports Commission Half Marathon 2013
In 2008, I finally got fed up with being so overweight and tired and started losing weight. In 2009, a friend encouraged me to start walking for exercise and I got involved with some local races. At a race, I heard about the "No Boundaries" program that was offered through Fleet Feet. I checked around to see if there was something similar closer to home, but there was nothing for a beginner. Through this program, I learned to run/walk (gradually increasing run times), stretch, hydrate, dress properly--essentially all the basics for a beginner. The support was amazing. There was always someone to ask if I had a question.
Well, from there, I "graduated" to the half marathon training program and I continued to learn and improve. Guess what? I STILL have questions and there are STILL people to ask. But I'm also someone who can now answer some questions. One important thing to me is the safety of training with a group. The group at Fleet Feet is large enough that you are almost guaranteed to have someone close to your pace to run with...and friendships are established over time. I rely on others to show up and run with me and they rely on me--the accountability is what gets me up in the early mornings or has me driving 30 minutes one way in the evening even though I'm tired. The people I run with have almost become like family to me--we share the joys and frustrations of our training, but also the good/bad of our everyday lives. And that's what group training is all about.
When I started, the thought of running a mile seemed impossible. To date, I've now run ten half marathons and am a couple pounds shy of losing 100 pounds. I plan to run my first marathon next fall (never say never!) in memory of my mother who died when she was my age (45). I would never have had the motivation to achieve all that I have so far without the support and encouragement of Fleet Feet.
Anne London
---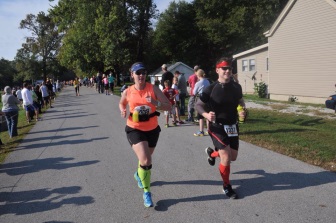 Christian and Jason, Iron Horse Half Marathon 2013

We both began running with the Fleet Feet Sports Louisville training program in 2010. Jason joined the marathon training group in preparation to run his first full marathon. Christian, having run the Mini Marathon many times prior, joined the Fleet Feet program a few months later at the urging of a friend. Together, we have run five full marathons and ten half marathons as a result of our participation in the training group. Our favorite race was the Columbus Marathon this past October, but we have also run marathons in New York, Virginia, St. Louis, and Indianapolis. We have met many wonderful friends through our training at Fleet Feet Sports Louisville and have made noticeable improvement in our race results. The best part of joining the training program, however, was meeting each other! We got married in June 2013 and have plans to continue running for many, many more years.
Christian and Jason Fegett
---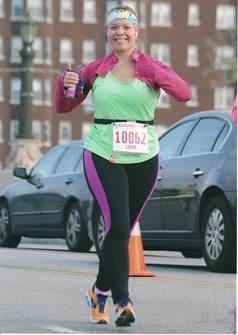 Lorri, Indianapolis Monumental Half Marathon 2013
Joining the Fleet Feet Training Group has been one of the most amazing decisions I've made.  Running is such an individual sport that you forget how influential the support and encouragement of others can be.  Not to mention the benefit of having mentors, staff and coaches with proven training plans to chart your course to the finish line! It makes getting out on those long runs just a bit easier knowing that you're not out there on your own!
Lorri Roberts
---
I was at a point in my life where I wanted to get physically involved in something but I wasn't sure where to start nor did I have the motivation to do it.  I told a friend that I was considering walking the park by my house when he told me that he joined the No Boundaries run/walk group at Fleet Feet.  That night I went online and joined myself, not really knowing what to expect. I am so glad I followed his lead. 
No Boundaries is what I needed to jump start my physical activity to where I am today.  They have every demographic of runners, from professional marathoners to people who have never run before; all of which just want to be active.  The run/walk group started out simple. One of the first nights we ran for one minute and walked for two, only doing three sets so I never felt overwhelmed and the coaches were there with us every step of the way.  The program builds you up athletically which enabled me to eventually join the runners group.  When I joined the runners group we had a few weeks to train for a 5K race. I was prepared for the race but felt nervous at the same time.  The race was timed but all I could focus on was finishing. If you would have told me a month prior that I would be running a race I would have laughed at you.  During the start of the race I noticed Adam, one of the No Boundaries coaches, was right next to me. Adam is a really good runner and could pass me in a heartbeat but he chose to stay back with me and help me make it through the race, not because I asked him, but because he wanted to.  That moment made me understand of how much of a family the Fleet Feet group really is.  With that motivation, and all of the motivation I had gotten the weeks before, I finished the race with the fastest time I had ever ran (29:15.02). After the race I didn't want to stop, so I have continued running with the goal of training for the Mini Marathon. 
I had often heard the term "runners high" and never really experienced it, but after every run you truly get this feeling of accomplishment and conquer that you can't find anywhere else. I'm not sure if it's just the endorphins running through your body or the feeling of self accomplishment but either way it feels AWESOME.  Not only does it make you feel good mentally but over the course of my running I have lost about 20 pounds, so you notice it physically too.   I feel like I have only just begun to find out what I am capable of doing and I know Fleet Feet is the cause of that. They have provided me advice, coaching, and sold me great shoes to help me every step of the way and for that I am so grateful!
Brandon Keeling