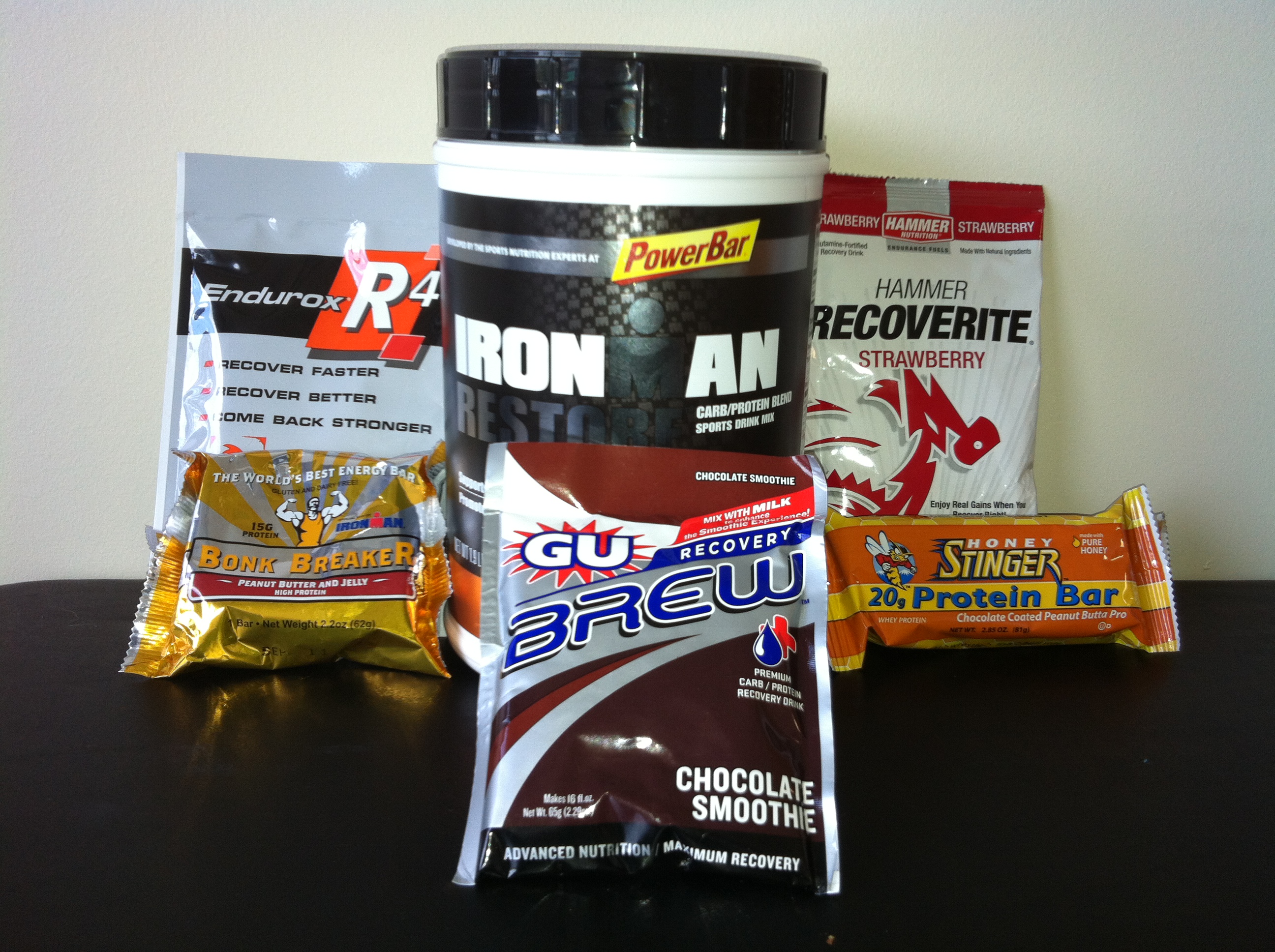 Recovery: So you're done with your workout and you're exhausted. You'll want to build your muscles back up so protein is important and you'll also want to replace the electrolytes you lost throughout your activity. How do you replace everything you've lost and get back to full strength? With one or a combination of the following items.
Bonk Breaker: While you'll also find Bonk Breaker bars in the 'Bars and Waffles' section, they also provide a good amount of protein, 6-8g, especially the high protein option that gives you 15g. In addition to the protein to rebuild muscles, Bonk Breakers offer a good amount of sodium and potassium, and make you feel like you're actually putting something more substantial in your stomach.

Endurox R4: Endurox R4 wants to help you recover faster, recover better, and come back stronger. How does it do that? Endurox R4 reduces post-exercise muscle damage up to 36% and extends endurance up to 55% in a subsequent workout. It's also packed with goodies. And by goodies we're referring to the 4:1 carb to protein ratio that includes 13g of protein, and high amounts of sodium, potassium and magnesium to replace your electrolyte stores.

GU Recovery Brew: Brew up something good with the originator in sports nutrition and hydration, GU. Replace everything you've lost and more with everything that's packed into GU Brew. In one packet you get 190mg of sodium and 390mg of potassium alongside 8g of protein. One of these bad boys will have you feeling top notch again in no time.
Hammer Recoverite: Recover right with Recoverite. Get it? This dynamic recovery formula provides exactly what your depleted body craves after a workout or competition. Hammer Recoverite gets you 10g of protein alongside many of the electrolytes you need to replace as well.

Honey Stinger Protein Bars: Similar to the Honey Stinger Energy Bars, the Protein Bars are going to give you a whopping 20g of protein for recovery. This 350-calorie bar will fill you up and give you 160mg of sodium and 230mg of potassium to replenish your electrolytes. In addition, the Honey Stinger Protein Bars are made from 30% organic ingredients.

PowerBar IRONMAN Restore: The main goals of IRONMAN Restore are to support muscle recovery and repair, and to promote efficient rehydration. It's important to replace your glycogen stores and Restore provides a great mix of carbohydrates and proteins to refill your stores. Each serving will provide you 250mg of sodium to help prevent cramping and get you rehydrated as quick as possible.