Energy Gels: Gels are a great option for replacing the calories and energy you lose while running. They are fast-acting and easy to access on-the-go. These 1.5 - 2 oz packets are usually around 100 calories, come in multiple flavor choices, and some include caffeine for that extra boost of energy. It is recommended to take a gel every 30-45 minutes with fluids during activity to keep you fueled and running your strongest.
Accel Gel: Accel Gel is new to our nutrition lineup and provides a great option for runners of all levels. With a 4:1 carbohydrate to protein formula, Accel Gel is the only energy gel to offer protein (5g). High levels of sodium will help with electrolyte replacement, but for a leaner, yet powerful mixture, check out 2nd Surge. 2nd Surge provides less calories with the same amount of sodium and sugars, and only slightly lower amounts of carbohydrates and proteins.
CLIF Shots: Surprise, surprise! CLIF Shots are made by the same company that produces CLIF Bars. If you're looking for a more organic product, this may be the way to go as CLIF Shots are 90% organic and contain the least amount of ingredients. CLIF Shots are on the thinner side as far as consistency goes but pack in added sodium and potassium levels to replace your lost electrolytes.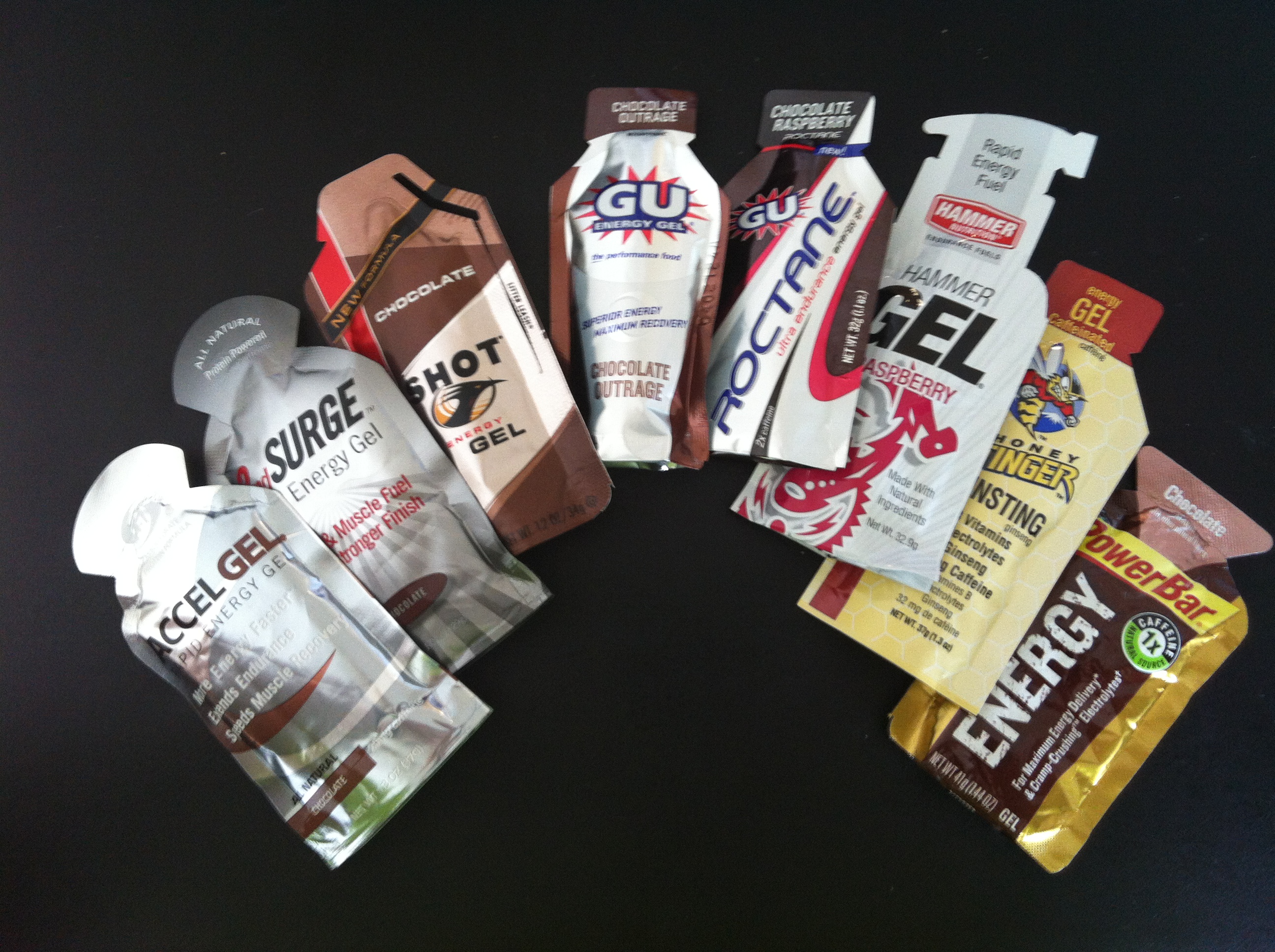 GU: The original energy gel. GU has been fueling athletes of all kinds since 1994. GU's provide 100 calories with a great mixture of carbohydrates and sugars to boost your energy level, while also providing a minimal amount of electrolyte replacement. For more electrolyte help, consider GU Roctane, their Ultra Endurance energy gel. Roctane has everything regular GU does, with extra sodium and potassium.
Hammer: Made with natural ingredients, Hammer provides the least amount of calories of all the gels offered at Fleet Feet Sports. Despite the low caloric numbers, Hammer packs in a great number of carbohydrates while being lower on the level of electrolyte replacements.
Honey Stinger: Another natural option, Honey Stingers crank up the levels in all the important categories. Honey Stingers offer high levels of sodium and potassium, while also packing in 29g of sugars into the 120 calorie gel. As the name suggests, these gels have a bit of a honey taste to them and are gluten free.

PowerBar: But it's called PowerBAR. Yeah, however, they also make a great gel option. PowerBar gels are thinner than many of the other energy options, but supersize the amount of sodium at 200mg, 85mg more than the next closest choice. PowerBar is an official sponsor of IRONMAN.