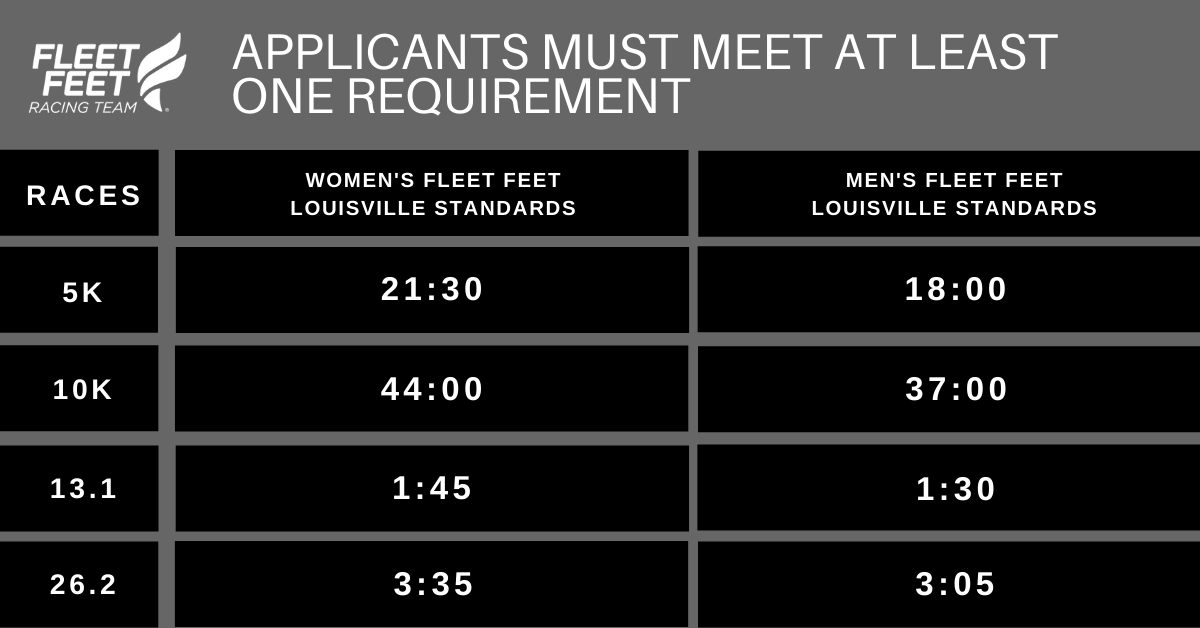 APPLICATIONS ARE NOW CLOSED!
Fleet Feet Racing Team
It's important to us that all levels of runners have a place to train and achieve their goals. While we strive to make sure our groups are welcoming to all runners and walkers we also want to make sure we offer a program for those who are training at a higher level which includes specific time or place goals like qualifying for the Boston Marathon or winning your next 5k.
The Fleet Feet Racing Team is a year-round training program for dedicated runners looking to elevate their performance during spring and fall racing seasons. Whether you have competitive experience at the high school, collegiate or post-collegiate level, or simply find yourself consistently toward the top of your division in recent races, the Racing Team is an opportunity to train in a team atmosphere with other runners looking to "level up."
As part of this partnership with Fleet Feet, registration for the racing team will be $75. As part of this you will receive the following:
a custom New Balance/Fleet Feet Racing Kit,
discounts on New Balance footwear during your registration year,
access to order additional custom gear at a discounted price through the digital storefront created for our team,
discounted or complimentary entries to local races (as available),
participation in racing team social events,
continued opportunities to volunteer at local events,
complimentary entries to all Fleet Feet Louisville training programs,
30% off in-store purchases (excluding electronics and purchases are only for the Racing Team members),
and bag drop/VIP area access and other race day perks at Fleet Feet sponsored races.
We will ask that as part of the team, you commit to racing in the kit, locally, at least once per quarter. Every racing team member must attend the Big Run (your entry for this race will be comped). We will ask that you volunteer at least once per quarter at a Fleet Feet Louisville event. This can be a packet pick up, water station for the training group, helping with an offsite community event or fun run. Team members will promote the team and store on social media using approved hashtags and tagging event partners as applicable. Attend at least two team building "fun runs" per year and two organized practices.