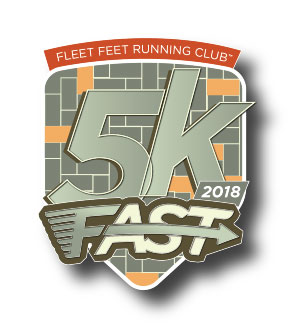 The Fall 2018 No Boundaries II Training Program is a follow up program to the original No Boundaries 5K training program.  This program is designed for graduates of our No Boundaries program OR those who can already run three miles without stopping (or with walk breaks of one minute or less).  You do not have to be a No Boundaries graduate to join No Boundaries II.  This is a great program for those who are looking for further direction in their training and/or want to improve their 5K time.  For those who want to run a 10K or (or even a Half-Marathon someday!), this program is a great bridge to the next level. Participants will train for a 5K race, but this time, learning to run proper pace and with proper form all while working to cross the finish line faster and increasing their knowledge (and love!) of running.  
$75 Registration Fee Includes:
8 week program
Twice weekly coached workouts (speedwork once per week)
Group workouts on Tuesdays @ 6:00 P.M. & Saturdays @ 9:00 A.M.
Run, run/walk, and walk options - ALL LEVELS ARE WELCOME! :)
Weekly motivational and educational eNewsletters
5K "Fast" program badge
Special edition program technical shirt
Coupon "punchcard" with BIG savings to help you "gear up"!
The best perks: accountability, camaraderie, and FUN!
Important Program Dates:
Friday, 10/5/18 @ 6:00 PM - Info / Packet Pickup Night
Tuesday, 10/9/18 @ 6:00 PM - First Tuesday Workout / FREE "Trial Run" (no obligation, see if the program is for you!)
Saturday, 10/13/18 @ 9:00 AM - First Saturday Speedwork Workout!
Sunday, 12/2/18 - GRADUATION RACE: Hot Chocolate Run to Benefit Safe Passage

Please be aware that this race sells out FAST!

  If you are planning on doing this graduation race with us, we suggest signing up on their website (HERE) as soon as registration opens!
Fall 2018 No Boundaries II 5K More Info »
Program Start: October 9, 2018
Program Schedule: Tuesdays @ 6 PM & Saturdays @ 9 AM
Program Fee: $75.00 (excluding race registration)
Description: The Fall 2018 No Boundaries II 5k Training Program is an 8 week program designed for runners, run/walkers, and walkers who have EITHER recently participated in a No Boundaries program and/or who have recently completed a 5k event. It's a great program for those who are looking for continued direction in their training and/or to improve their 5k time. It's also the perfect program to bridge the gap between the No Boundaries program and a 10k training program!