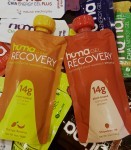 Don't call it a recovery drink! Huma Recovery Smoothie is so much more. 
We all know the ritual: measure out your water, scoop out the recovery powder and then carefully pour the powder into the shaker. Put the top on and mix it. When you're done, clean it out immediately. (Trust me, the last step is an important one. Having been away from home when I needed one and forgetting the shaker in my car on a hot summer day, it's not pleasant.)
Aside from eliminating all these steps, the Huma Recovery Smoothie is a tasty, filling way to start your recovery. While some recovery drinks might leave you still feeling a little hungry, the Huma Recovery Smoothie is a satisfying way to start the recovery process. 
Each pouch will provide 14 grams of plant-based protein along with electrolytes, carbs & antioxidants, healthy fats, and fiber. The ingredients include a blend of fruit purees, brown rice and pea protein powders (a complete protein), hi oleic sunflower oil, sea salt and other natural ingredients. All this in a single-serve twist-top pouch. 
There are two great flavors, Strawberry and Mango Banana. Pick up a pack today and take your recovery to a whole new level.