---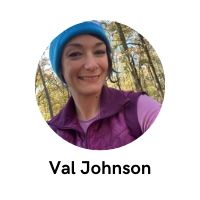 She grew up in Kalona, Iowa and Red Bluff, California were she ran cross-country track. After high school, Valerie joined the United
States Air Force and served as in KC-135 maintenance. Soon after leaving the Air Force Valerie meet her
husband Zach an Air Force C-130 Pilot in 2006. Valerie and Zach got married that same year and moved
to Ramtein AB Germany for three years. They came to Little Rock, Arkansas in 2009. 2013 was a
monumental year for Valerie and Zach as they welcomed their son Oliver and then promptly moved to
Riyadh Saudi Arabia. In 2014 they came back to Little Rock to stay. Valerie enjoys gardening, thrift
shopping, ball room dancing, and taking care of her family and zoo of a dog, 3 cats, 5 chickens, a lizard, a
fish, and two goats.
---