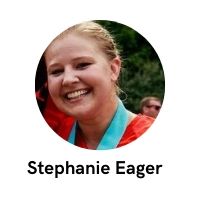 Stephanie grew up in Central Ohio. She began running as an early adult as a way to stay fit but it quickly became a passion. In 2015 Stephanie married the love of her life Kelly and turned him into a runner as well. 
After starting to work at Fleet Feet Columbus in early 2017 she was challenged to take running to the next level and began training for the Columbus Nationwide Children's Half Marathon. About halfway through the training session she found out that she was pregnant with their son Griffin, who was born in April of the following year. She along with her growing belly, were still able to complete the half marathon as planned. 
In September of 2019 the whole family, Kelly, Stephanie, Griffin, Pedey the Border Collie (and trail extraordinair) and Libby the GSP moved to Little Rock. Now they spend their spare time finding new trails and places to adventure in Arkansas.