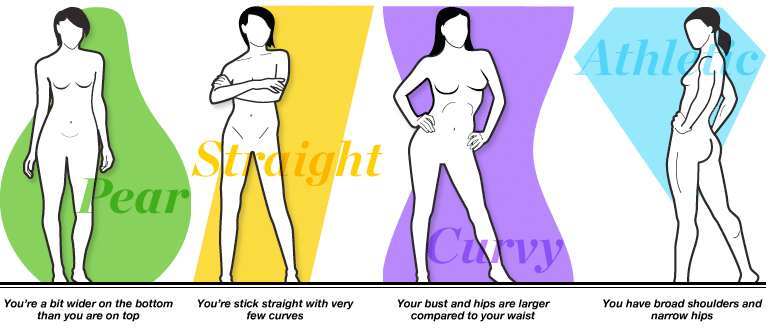 Many women fall into one, or a combination of four basic shapes: Pear, Straight, Curvy and Athletic. Each shape has different strengths you can play up, and different needs to be addressed.
Pear Shapes
Pear shapes are a bit wider on the bottom than they are on the top, just like the fruit! Chaffing is a problem that most women have to worry about when exercising, and pear shapes should take extra consideration for chaffing around the thighs. It can make running or walking uncomfortable, particularly in hot weather. In addition to lubing up with some Body Glide and choosing moisture-wicking fabrics for clothing and underwear, the cut of your clothes can make a big difference. To reduce friction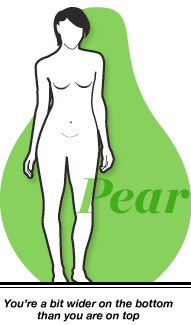 between the skin, capris and leggings are excellent choices, and in hot weather, skirts with built-in shorts underneath can be a lifesaver.
Dark, or solid colored bottoms look great on pears because they emphasize your curves without being overpowering. Stay away from busy prints, they break up your figure and you loose that smooth silhouette. Let your hips speak for themselves; they don't lie! Take the opportunity to play with patterns and cute details with a fun top.
Straight Shapes
Straight shapes are pretty much the same width all the way down with very few curves. If you have a straight shape, your needs are pretty "straightforward." Straight shapes may experience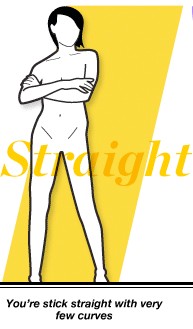 chaffing, but generally should focus on choosing pieces that feel comfortable and look good.
Bright colors and prints work great on a straight shape, in either a top or bottoms. Crop tops, V-necks, and shirts with ruching on the sides are awesome picks if you want to play up your femininity a little, and details like paneling or piping can create the illusion of curves. Most cuts are going to be flattering on straight shapes, just avoid overly baggy clothing (which is difficult to work out in anyways) and one color from head to toe, which will overwhelm your frame.
Curvy Shapes

Curvy shapes are smaller around their waist when compared to their bust and hips. Think hourglass! Like pear shapes, curvy ladies often have to worry about chaffing, but that can be prevented with fitted pants or capris, and athletic skirts. A supportive sports bra is important for all women, but especially those with larger cup sizes like curvy shapes. In addition to the discomfort you feel when your girls bounce around unsupported, your Cooper's ligaments are stretching out, which causes sagging and is irreversible.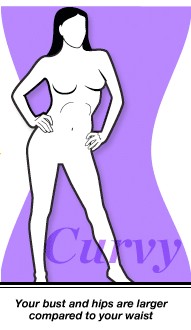 Not to fear, at Fleet Feet Knoxville our trained staff can help you navigate our extensive stock of sports bras so you can find that perfect fit.
On curvy shapes, crazy prints and baggy clothing tend to erase those fab curves, but bright solids with detailing near your midsection are especially flattering on a curvy frame, and don't be afraid to try more fitted cuts. A fitted V-neck or scoop neck top paired with a running skirt or boot cut yoga pants is a great look that shows off your shape while being a practical and comfy choice for exercise.
Athletic Shapes
Athletic shapes have narrow hips and broad shoulders, often from competing in a sport that requires a lot of upper body strength, like swimming or weightlifting. Like other shapes, chaffing should be considered when choosing athletic apparel, and many athletic shapes may need to make a supportive sports bra a top priority. Because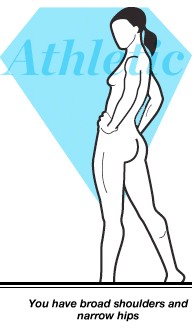 athletic shapes have broad shoulders, it is important to choose fitted tops that fit your waist without being constricting on your upper body.
Tank tops and short sleeves are great for showing off those toned shoulders, and ties or cinching details help to define your middle. Flared or boot cut pants add too much bulk to the lower leg, which throws off your proportions, so it's best to stick with ankle-length pants, capris, or short shorts. Because you're smaller on your bottom half, try shorts or pants in bold prints, they add balance to your frame.