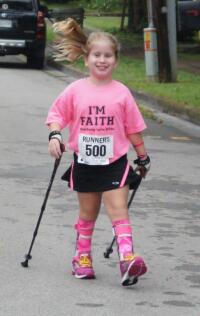 Armed with walking poles and bright pink everything, eight-year-old Faith Russell has become somewhat of a regular at the Maryville 5k scene, despite her diagnosis of Spina Bifida and predictions she would never walk.  And now, to celebrate her ninth birthday, Faith and her family are organizing a 5k, the One Less 5k, on September 27th.
The One Less 5k was dreamed up by Faith to help fund the adoption process of her little brother from Haiti. Her big brother and coach Griffin came up with the name, because after the adoption there will be "one less" child without parents.
Read more about her story at WBIR.com.