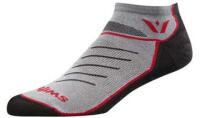 Socks are those all important pieces of your gear that seemingly do not matter. However, once you get out of those cotton socks and try out a pair of well made, technical socks, your run will forever change. Have you tried out Swiftwick socks? Besides the fact they are made in Tennessee, Swiftwick socks are some of the most comfortable, lightweight socks around.
At Fleet Feet, we carry their Performance Line socks, which are are knitted at 200 needles; the highest density you'll find in socks. How that helps you is when the needle count is higher, the knit is tighter. This lessens the probability of pebbles and other debris that can creep into your sock from causing you to get a blister! We carry both the merino wool and Olefin, which is a Nobel Prize winning environmentally friendly fiber. Swiftwicks also provide compression to help with blood flow and circulation. 
So ditch those cotton socks and try out some Swiftwicks! Once you slip them on your feet, we guarantee you will not go back.