Now that it's summer, are you doing all you can to protect yourself from injury? Your footwear is good and your make sure to warm up, stretch and cross-train but how about your hydration? Dehydration is one of the key contributors to running injuries and you can learn more about how to stay hydrated by checking out these articles we have for you: Beat the Summer Heat and Summer Hydration Tips.
Once you get the hydration plan that's right for you, you'll need something to carry your fluids with you! At Fleet Feet Knoxville, we offer a tons of belts, handhelds, packs from great companies such as Fuel Belt, Nathan, IFitness and Amphipod. What's great is that most products also have pockets to store nutrition, identification, cell phone and smart phone. Come by and let us help you select the right hydration system for you!
Here are some of our favorites: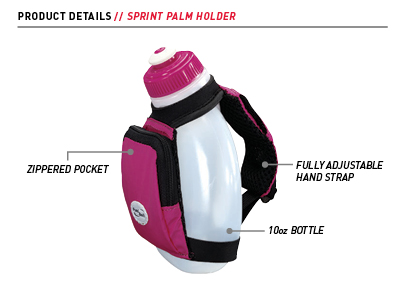 FuelBelt Sprint Palm 10oz
Super light and comfortable, this handheld by FuelBelt allows you to carry 10oz of fluid with you. Featuring an adjustable hand strap and pocket that is great for small items like your keys, this bottle feels great in your hand and you barely notice it's there.
Nathan Trail Mix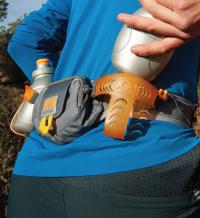 Have a bounce free run thanks to the new mono-filament 20-Percent stretch belt. Featuring external power stretch mesh pocket and zippered pocket keep phone, keys, food and essentials safe, two shock cords with one-pull tension lock for jacket or gloves and tension-molded holsters keep bottles in place and easy to access, and moisture-wicking air mesh, this belt will help your skin stay dry and your body hydrated when you need to carry just a little more fluid for those longer workouts.
Amphipod RunLite 4
This versatile belt features a unique modular system allows you to add, remove, or reposition bottles so if you don't like the bottles straight up, flip 'em to the side. The belt comes withfour BPA-free bottles that audibly snap securely onto belt and built-in stretch pocket and removable storage pouch