Fleet Feet Knoxville is proud to bring you Elite Dark Chocolate "the perfect blend of art and science born into an entrepreneurial vision". This nutrient enriched artisan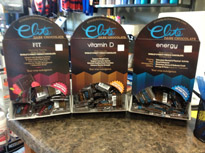 chocolate is made with French chocolate. Elite Dark Chocolate was developed and is distributed here in East Tennessee! 
There are three different chocolates you can choose from: Elite Vitamin D, Elite Energy and Elite Fit! Elite Vitamin D helps build strong bones, boosts immunity, and plays a role in regulating blood pressure and blood sugar as well as its recently discovered roles in MS, cancer, asthma, Alzheimers, autism, and long-term severe illnesses in children.Elite Energy packs a punch with caffeine, ginseng to give you that zing you need to get you through the day and FIT is perfect for weight management and that all important antioxidant boost.
Stop by today and check out this locally made, delicious and nutritious chocolate!