Cold, Colder, Coldest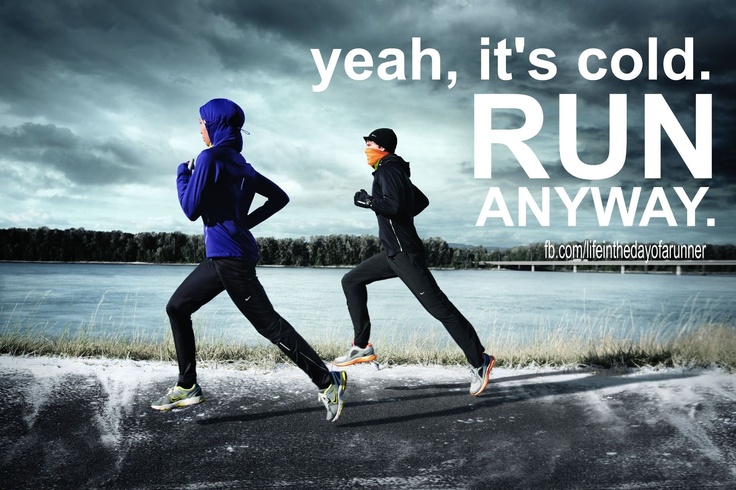 Don't let this cold weather put a damper on your training. We've put together this handy guide to help you know how to choose the right gear based on the weather conditions outside. We've broken up apparel and accessory pieces based upon temperature ranges, but make sure you take into consideration if you heat up easily or if you are a bit cold natured and build your gear from there. 
Now that you've read our article Cold Weather Running Tips, we've organized some of our apparel and accessories we have in-store to help you prepare for the chilly weather. For the most part, if you follow these rules, you will do great:
1. Dress in Layers. Focusing on keeping your core and extremities warm (your hands and feet) and have some kind of cover over your ears and head, you will do great.
2: Dress for 10˚ warmer than it is outside. If it is 40˚F out, dress as if it is 50. You will warm up as the run/walk progresses.
3: Always consider the time of day, weather conditions, your own body temperature. Remember it is going to be cooler in the early morning and night. Weather conditions like rain, wind or sun will also alter what specific top layers you consider.
Cold: Temperature: 50˚F – 40˚F
Ideal pieces: Long or short sleeved technical tops as a base layer, 1/2 zips, shell jackets as your second layer, shorts, technical capris or pants. We really like to pair shorts with compression socks for support and warmth. A knit hat or headband is a good idea if your ears are sensitive to the cold.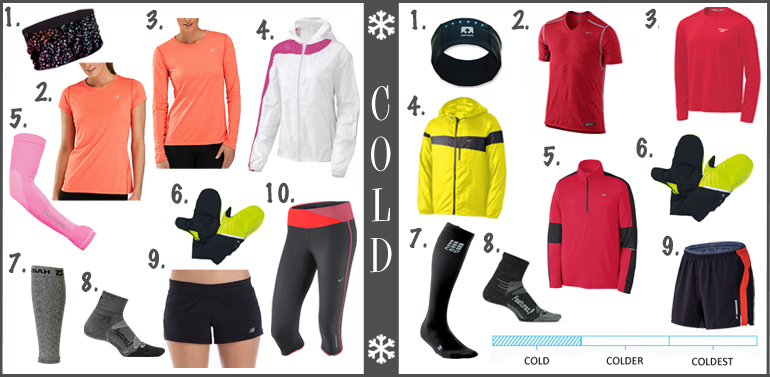 | | |
| --- | --- |
| Women's Cold Weather Gear | Mens' Cold Weather Gear |
| 1. Buff Headband in Fulles Print | 1. Nathan Headgasket Lightwave Headband |
| 2. New Balance Short Sleeved Tee in Pink | 2. Nike Short Sleeved Tailwind Shirt in Red |
| 3. New Balance Long Sleeved Heather Tee | 3. Brooks Versatile Long Sleeved Shirt in Red |
| 4. Brooks LSD Lite Jacket in Nightlife Yellow | 4. Brooks LSD Lite Jacket in Nightlife Yellow |
| 5. Nathan Breakaway Sleeves in Pink | 5. Brooks Essential Run 1/2 Zip in Red |
| 6. Brooks Adapt Glove in Nightlife Yellow | 6. Brooks Adapt Glove in Nightlife Yellow |
| 7. Zensah Compression Calf Sleeve - Heather Grey | 7. CEP Compression Sock in Black |
| 8. Feetures Elite Merino+ Ultra Light Quarter Sock | 8. Feetures Elite Merino+ Ultra Light Quarter Sock |
| 9. New Balance Impact Short in Black | 9. Brooks Essential Run Short |
| 10. Nike Capri in Black, Pink and Coral |   |
We love the Brooks LSD Lite Jacket - it's ultra light and will keep you dry for about an hour on your run and is a super wind blocker. Also, if you get to hot, you can pack the jacket into one of the pockets for compact carrying.
The Nike Tailwind Short Sleeve Shirt is also a great piece as a base layer. With it's stylish V-neck and ultra soft, Dri-Fit material, it's a great piece to keep your core warm.
Colder: Temperature: 40˚F – 32˚F
Ideal pieces: Long sleeved technical tops as your base layer, heavier weighted 1/2 zips or thicker shell jackets, technical pants. A knit hat or headband is a definitely a good idea now, along with a neck gaiter to keep your neck warm and definitely some gloves.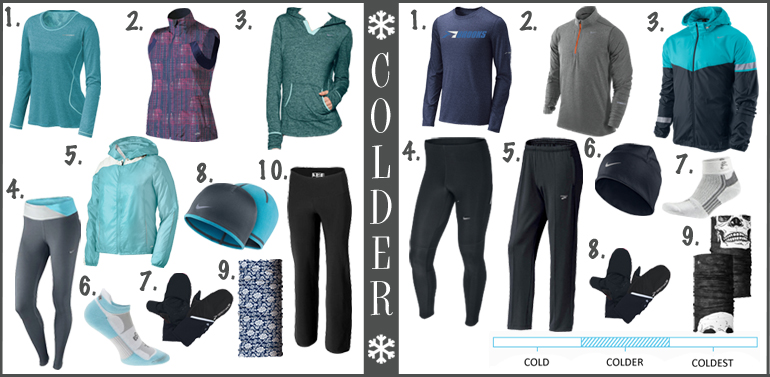 Women's Colder Weather Gear

Mens' Colder Weather Gear

1. Brooks Versatile Long Sleeve Shirt Heather Helium

1. Brooks Retro EZT Long Sleeve II Midnight

2. Brooks Essential Run Vest II Midnight Hatch Midnight

2. Nike Element Half Zip

3. Nike Element Hoodie Green

3. Nike Vapor Jacket

4. Nike Epic Run Tight in Black

4. Nike Tech Men's Running Tights

5. Brooks LSD Lite Jacket in Blue

5. Brooks Spartan Pant

6. Balega Enduro No Show Sock

6. Nike Skully Lightweight Wool Cap

7. Brooks Adapt Glove in Black

7. Balega Ultra Cushion Quarter Sock

8. Nike Therma-Fit Beanie

8.

Brooks Adapt Glove in Black



9. Buff in Peony Navy Print


9.

 

Original Buff Skull Print

10. New Balance Ultimate Boot Cut Pant

 
Have you tried a Buff before? These unassuming little pieces are incredibly versatile and can be used as a beanie, a neck warmer (gaiter), a headband and dozens of other configurations to keep you warm and cozy on your run. They come in tons of fun prints so you'll be warm while looking good out there.
How cute is the Nike Element Hoodie for women? With a slightly heavier weight, this is a great second layer piece to keep you warm. If you need that extra bundling at the beginning of your run, pop up the hoodie and then once you get that 10 minutes of running under your belt, toss the hood back and you don't have anything to carry.
The Brooks Essential Run Vest is a great way to keep that core warm while keeping your arms feeling a little more free. You'd be amazed at the heat this little wind-blocking piece will hold in.
Coldest: Temperature: 32˚F and below
Ideal pieces: Heavier weighted long sleeved technical tops as your base layer, heavier weighted 1/2 zips or thicker jackets, technical pants, possibly paired with thermal tights. Pair the technical pants with compression socks for extra support and warmth. A warmer fleece hat and heavier gloves are a must and a fleece neck gaiter to keep you neck warm.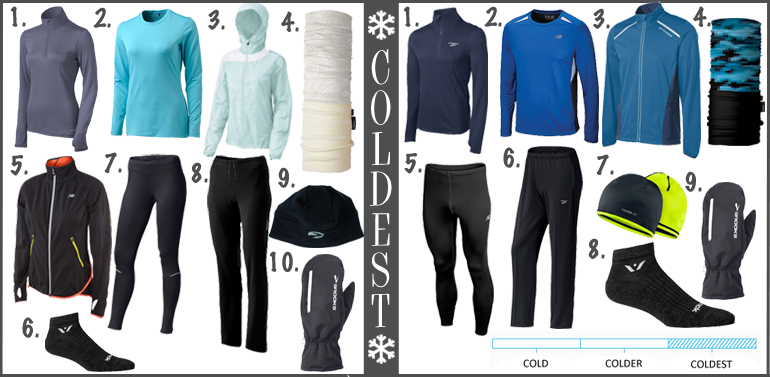 Women's Coldest Weather Gear

Mens' Coldest Weather Gear

1. Brooks Heater Hog in Blue

1.

Brooks Heater Hog in Midnight



2. Nike Dri Fit Long Sleeve Shirt

2. New Balance Momentum Long Sleeve Shirt in Blue

3. Brooks LSD Lite Jacket in Blue

3. Brooks Infiniti Jacket in Galaxy/Midnight

4. Polar Buff in Kashfly Print

4. Polar Buff in Pixelizze

5. New Balance Windblocker Jacket in Black

5. New Balance Thermal Impact Tight

6. Swiftwick Merino Wool Sock

6. Brooks Spartan Pant

7. Brooks Thermal Tight

7. Nike Therma-Fit Reversible Beanie

8. Brooks Vapor Dry Pant

8.

Swiftwick Merino Wool Sock



9. Brooks Wanganui Fleece Hat in Black

9.

Brooks Utopia 3 in 1 Mitt

10. Brooks Utopia 3 in 1 Mitt

 
No one likes to be called a Hog except the Brooks Heater Hog. This super lightweight half zip looks unassumingly normal at first glance but once you put it on for a run and begin to sweat, the fibers in this Heater Hog activate to heat you up. This half zip is designed to be worn as a base layer and will not work at it's utmost potential unless worn close to the skin.
Break out the big bad mama jama. The New Balance Windblocker Jacket is designed to keep you uber warm. With its fleece lining and super windblocking abilities, this is a great top layer piece to keep you warm in these extreme temps.
Speaking of New Balance, we can't keep the New Balance Impact Thermal Tight in stock! This reasonably priced but workhorse of a thermal tight fits great and keeps your legs super warm thanks to the NB Heat Technology. Made from eco-friendly coffee grinds, NB Heat helps to provide thermal warmth and heat the surface temperature of the skin by approximately two degrees. Plus, it provides UV protection and is designed with quick-dry and anti-microbial properties.
FIND YOUR STRONG WITH SAUCONY
We are proud to announce the latest updates from Saucony footwear that have landed at Fleet Feet Knoxville: The Guide 7 and the Triumph 11. Check out what you need to know about the updates:
GUIDE 7 - The Perfect Blend of Guidance and Responsiveness, represents the longest development initiative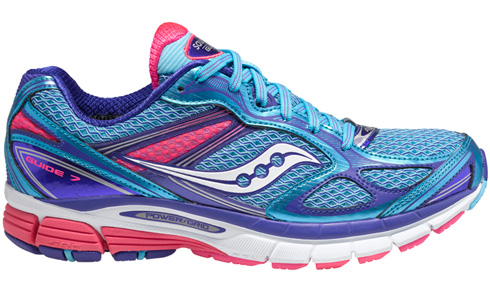 in Saucony's history. The Guide 7 works for more runners than any other shoe in our line. It's built to offer light stability: perfect for mild overpronators, as well as neutral runners who want just a little extra support.
Engineered Stability - Stable shouldn't mean stiff. Saucony designed the Guide 7 with strategic stability zones that provide support while maintaining cushioning and flexibility.
Geometry Matters - The 8mm heel-to-toe offset of the Guide 7 activates and engages a runner's ability to cushion, stabilize and spring forward.
Cushioning Gets Real - Running uses the whole foot, not just small areas where you land and take off. The full length PowerGrid covers you, no matter how you run, and is designed to spring back quickly and efficiently.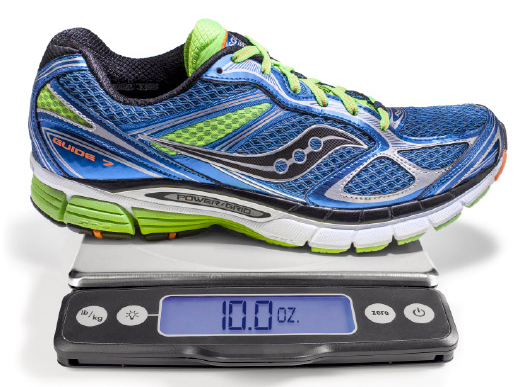 Light is Right - Less weight = less work. New technologies allow Saucony to create lighter shoes without compromising cushioning, support and durability. According to Saucony's website, "Studies show a 100g increase in weight equals 1% metabolic cost to the runner. Over the course of a marathon that's a really big deal. The Guide 7 is lighter than any shoe in its class, so… you do the math."
Fit for the Run - Light, quick and fully in control. Guide 7 is designed to follow the foot - not vice-versa. Stability is built right into how the shoe fits the foot and moves.
Triumph 11 - This neutral shoe features a midsole made entirely of super-plush PowerGrid, the Triumph 11 is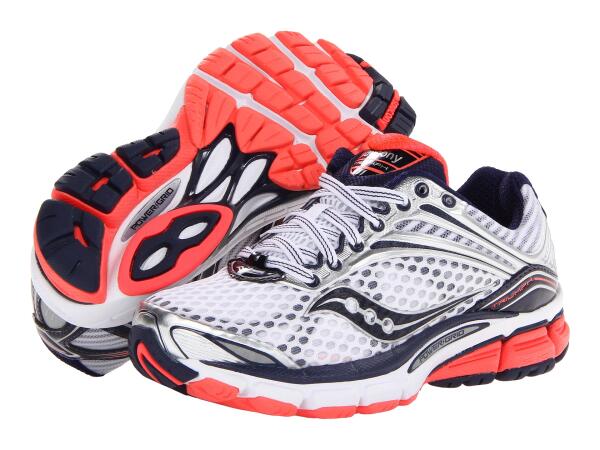 the answer to every runner's prayer for a supremely cushioned yet lightweight training shoe. An updated saddle design provides more support while locking the foot to the platform, and the SRC crashpad has been reengineered to incorporate grooves that provide an even smoother transition from heel-strike to toe-off. Weight: 9.3oz.
Check out the technology incorporated into this amazing shoe:
UPPER
Sauc-Fit™
Fit system that locks the midfoot to the platform while securing the heel
HydraMAX™ Collar Lining
Collar lining material combines superior moisture wicking properties with a plush feel for comfort
ComfortLite Sockliner™
Molded sockliner contoured to cradle the heel, support the arch and reduce peak pressures in the forefoot. Built from premium EVA for an exceptionally responsive feel
HRC+™ Strobel Board
Our strobel board is covered with an additional 3mm of foam to deliver an incredibly plush ride
MIDSOLE
PowerGrid™ (full midsole)
Powerfoam material is integrated with GRID technology to create a system that effectively centers the foot, absorbs impact and distributes pressure, resulting in an exceptionally smooth and responsive ride
Impact Interface
Isolates and distributes impact upon heel strike
SRC™ Impact Zone
Super Rebound Compound provides durable shock absorption in the heel crashpad to help reduce torque and allow for a smooth transition into the midfoot
OUTSOLE
IBR+™
33% lighter and provides 3 times more cushioning compared to standard blown rubber
XT-900™
Premium carbon rubber outsole material that offers exceptional traction and high-wear properties
A New Year, A New Bra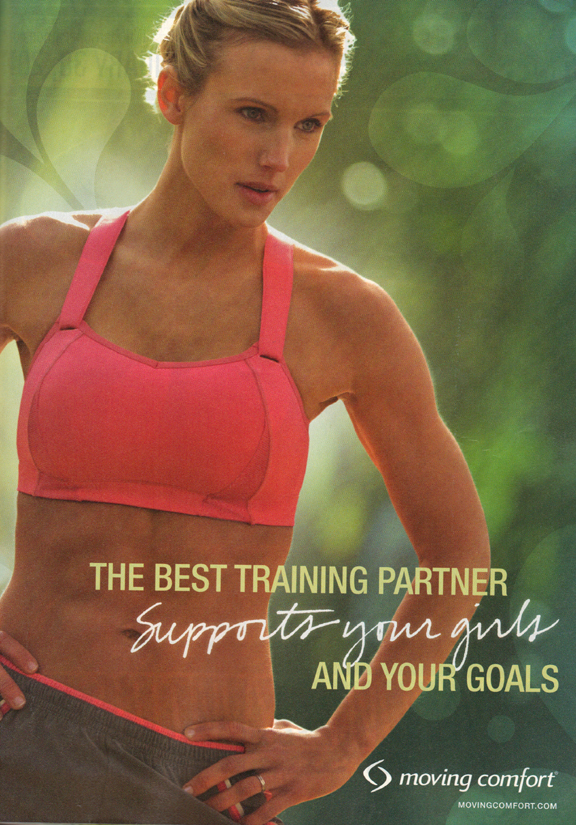 At Fleet Feet Knoxville, our purpose is to help you choose the right gear to make your training just right. One of the most important pieces in any woman's gear quiver is a properly fitting sports bra. That's why we've added two new bras from the Moving Comfort line so you can have even more options for supporting your girls. Accordingly, we are proud to introduce the Urban Cross Over and the Hot Shot.
Read on to learn about these new additions and you can see all the other bras we offer here.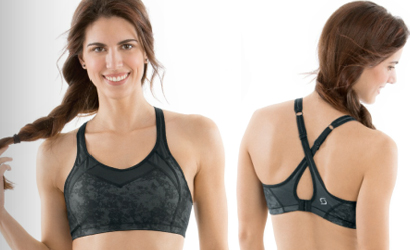 Urban X-Over - The ultimate support with a side of attitude. Contouring, fun straps, and pop colors give this bra a sexy vibe.

• Maximum-contoured seam-free cups
• Cross-back, adjustable straps
• Adjustable, soft padded back closure
• Encapsulation/Compression
• High Impact. ideal for running, soccer, horseback riding, tennis
Available Sizes
S - XL (Fits band sizes 30 - 40 and cup sizes A - D*) D cups may find that this bra may not work, but since we are all unique, try it on to see how it works for you.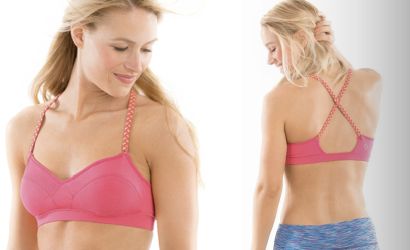 Hot Shot - Designed with yoga in mind, this sweetheart of a sports bra is super soft, feminine, and moves effortlessly with the body.
• Removable, moderate-contoured seam-free cups
• DriLayer Adapt straps stretch for a personalized fit
• Fabric-covered bottom band adds softness to fit
• Minimal back coverage allows for enhanced range of motion
• Encapsulation/Compression
• 50 UPF
Available Sizes
S - XL