Key Features and Updates:
Lighter version of Lunarlon foam
Redesigned outsole pattern to encourage natural movement
Angled dual-density foam for Enhanced Dynamic Support stability
Heel clip for a locked-in fit
All-new engineered upper
Heel to toe drop 10 mm
Lunarlon Cushioning: Soft, responsive, and 30% lighter than before
The Nike Lunarglide 6 features a lighter Lunarlon foam for super soft, lightweight and responsive cushioning. Lunarlon debuted in the Nike Lunaracer for world-class marathon runners and the Nike Hyperdunk for elite athletes competing in Beijing in 2008. The original Lunarglide followed shortly after, giving every runner access to Lunarlon technology. Ever since, every day and elite runners alike glide through the miles cushioned by the lightweight, soft and responsive foam.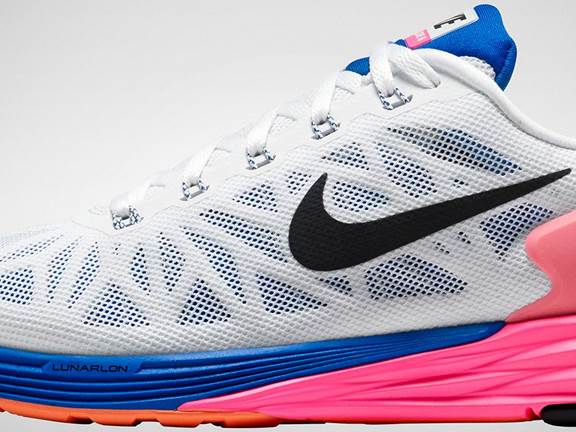 Dynamic Support: Angled dual-density foam slows the rate and degree of pronation for improved stability
To enhance stability, designers first increased the angle of Dynamic Support technology, the two-part midsole system introduced in the original Lunarglide in 2009 to provide runners both cushioning and stability. Whereas traditional stability shoes have a medial post, the Lunarglide's Dynamic Support uses opposing wedges of foam with different densities to offer a smooth, stable transition.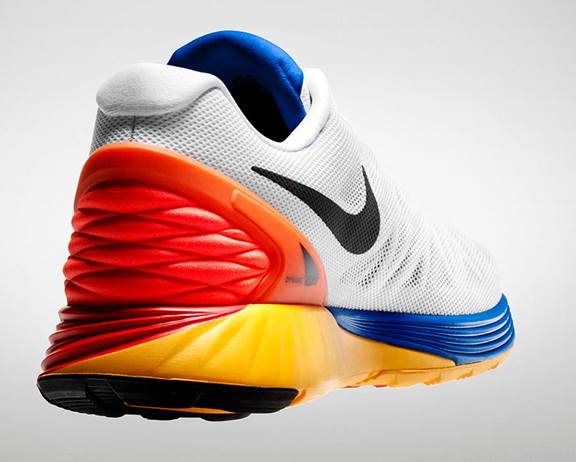 Pressure Mapped Outsole: Encourages natural movement through toe-off
Runners' insights helped inform the new shoe, which includes an outsole pattern created to mimic the way a runner's foot moves dynamically from landing to takeoff.