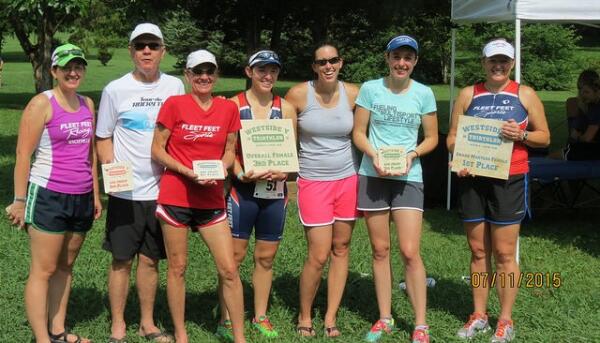 On Saturday, the Fleet Feet Knoxville tri training group headed to the Family Westside YMCA for the annual Westside Y Sprint Tri. This Race Day Events triathlon is the 4th leg of the Fleet Feet Sports Grand Prix, so it is a must for those with their eyes on the prize. Though this pool sprint is short (with just a 200 yard swim, 12 K bike, and 4K run), the twisty, 2-lap bike course is particularly technical, making it a challenge for even the most experienced athletes. Here at Fleet Feet Knoxville, we believe that the challenge only makes the race more fun!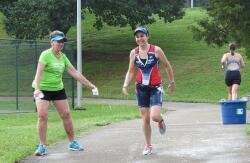 Speaking of fun, no one was having more fun than Fleet Feet Knoxville "head cheerleaders" Pam Moore and Anne Mathiak. These enthusiastic water stop volunteers had a blast handing out water at the water stop this year, even dousing their fellow Fleet Feet Triathletes with ice cold water as they ran by! The mid-race shower was a welcome relief from the hot, muggy weather, and it is always awesome to see friendly faces on the course. We love our fans!
At the awards ceremony, it was amazing to see such a strong showing from Fleet Feet on the podium. A big congratulations is in order for Melinda Spiva and Debbie Sayers for winning 3rd Place Female Overall and Grand Masters, respectively. These gals have been training hard, and they absolutely crushed it on Saturday.
Thanks to Race Day Events and the Knoxville triathlon community, another great race goes on the books. We can't wait for the next one!