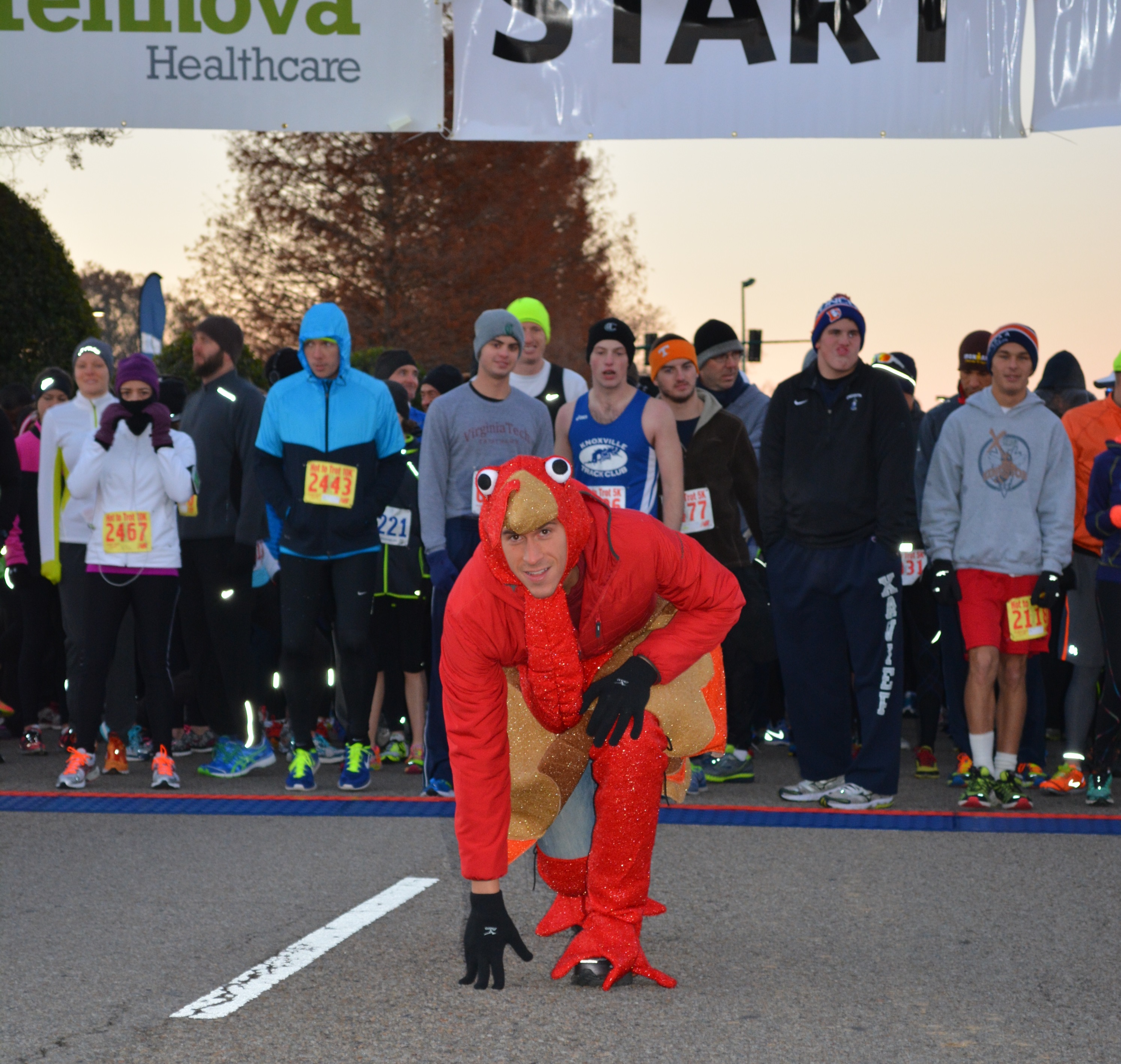 Congratulations to the over 3,000 runners, walkers, and volunteers who came out to our 5th annual Hot to Trot Thanksgiving Day race! It was a cool and crisp November morning filled with friendly competition, family fun, and even a few larger-than-life-sized turkeys. We also had quite a few superheros and cartoon characters make an appearance to cheer on the racers and run alongside the Fun Runners. Despite the cold air, the atmosphere was warm, and everyone had a great time kicking off the Thanksgiving celebrations.
Corrine and Sam Lariviere sped across the finish line winning the overall 5k awards, with times of 18:50.90 and 17:07.93 respectively. The 10k overall
awards were won by Kelsey Cane (finishing time of 39:54.77) and Fleet Feet's very own sales associate and training coach Alex McCandless (finishing time of 36:13.77).
Hot to Trot races help raise money for A Hand Up for Women, an organization that helps women in need get a new start. Executive Director Eva Pierce had this to say, "The only word for my reaction to the turnout for Hot to Trot this year is OVERWHELMED! To see over 3,000 people coming out on a frigid Thanksgiving morning to volunteer, run, or walk to benefit A Hand Up For Women left me speechless. And leaving me speechless is no small feat! There are no words to thank everyone enough for the difference their effort will make in the lives of women working toward self-sufficiency!".
The canned food drive for Sister Martha's Food Pantry at Tennova was also a great success. Hot to Trot was able to fill the pantry back up with lots of cans and boxes of food. Thanks to generous racers and volunteers, we were able to help those in need to have a nice warm meal for the holidays. Brad Hood, Chaplain and Patient Advocate at Tennova Turkey Creek Medical Center, said of the donation Thank you for your generous donation of food for Sister Martha's Food Pantry.  It may be the holiday excitement that makes this race feel like a family gathering but donating to the food pantry multiplies the success of your event.  In the spirit of Thanksgiving, friends of yours help friends of ours and they may never know each other.  Tell all your friends, "Thanks."
Everyone who donated had the chance to enter a raffle for a pair of brand new running shoes donated by New Balance. This year, Rick Arnseth took home the prize. Thanks again to everyone who donated.
For the fifth year in a row, Turkey Day was a big success over here at Fleet Feet Knoxville. It was wonderful to see so many of you up and running on this important holiday, and we look forward to continuing the tradition for years to come. Special thank you goes out to to our title sponsors Tennova and New Balance for helping us put on a tremendous event.
Results available here.
Check out race day photos on our Flickr.