We are thrilled to announce the winners of The Power of Running campaign! These local athletes inspire those around them, and we're so fortunate to have them in our community!
Sue Buckley - Grand Prize Winner
Nominated by Shahin Hadian -- Sue has not let a rare disease called VHL that took her eye sight away slow her down. She and her husband have founded the Club Vibes (www.club-vibes.org), a club for legally blind athletes. They serve many of the young kids and adults in the area that wish to get involved in sports or just socialize. She did her first sprint triathlon about 6 years ago but is now mostly involved in cycling events where they recruit seasoned captains to ride with member "stokers". Their annual clubs events have ranged from biking to such activities as surfing. Currently, we are working together to see how Fleet Feet Knoxville can be involved in their mission while introducing her to some of our beginner programs. She has promised to let me "guide" her on one of our runs. What a passion!
Dana Moser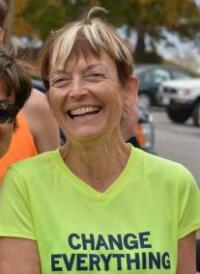 Nominated by Pam Moore -- Dana has inspired me from even before I ever met her. I heard about the 70 year old woman that couldn't walk up step without severe pain that ran her first marathon in just over a year after taking running classes at FleetFeet sports. After meeting her and becoming friends her drive and competitive spirt are almost as outspoken as she is! She encourages and inspired by not only showing up but placing in her age division! Her smile is contagious and lucky for me very photogenic! I took the photo I am sending you and many more! In all of them she is smiling and waving at each mile. Dana goal is to run a half marathon in all fifty states! She is not only doing it at 4 or 5 halfs in a year, she has talked almost all the ladies we run with in to joining her. We have great friendships and great times running with friends makes us all happy and competitive. I never thought I could do more than a 5K but I have done two half marathons so far and I am looking forward to many more!
MaryJane Pitts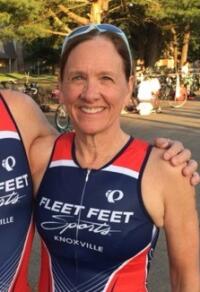 Nominated by James Stewart -- Mary Jane trains hard at every session, even when she's just had a race the weekend before. She does incredibly well in her age group at both running races and triathlons. I don't know her exact age, but I think she is either in the Grand Masters or Veterans category at races. When she isn't racing personally, she always shows up to the Fleet Feet cheer sections where she brings fun signs and inspires her running teammates to continue putting forth their best effort. She is active in the Fleet Feet community as a volunteer and as a part of training programs as well.