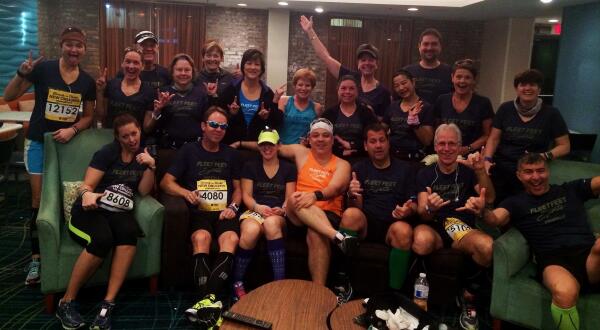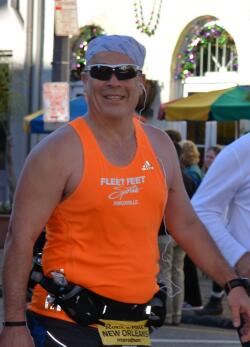 By Henry Marambio -- The Fleet Feet Long Distance Training Group headed down to the BIG EASY on the weekend of January 23rd. The half and full marathoners along with family and friends looked forward to an unforgettable race weekend. The weather all weekend and on race was perfect in every way and we started race morning with the biggest surprise; Shahin showed up on time for the pre-race get together.  Needless to say a spontaneous round of applause and cheers erupted in the hotel lobby.
As always the Fleet Feet family and your fellow training buddies are proud of everyone, but I think I can speak for everyone when I say I am always MOST proud of the 1st timers and those who achieved PR's. These folks all have a story and I personally love hearing about their experience -- it never gets old.  We all sweat and suffer over the weeks in preparation for our goal race, we often get to see the best and sometimes worst of each other. I too often hear myself in the stories others tell. In the end, as each Fleet Feet runner crossed the finish line (along with the other 13K+ runners) there was nothing but good feelings for a job well done. Its impossible to mention everyone, so I won't attempt to start. I will change the subject by mentioning that the entire course did NOT HAVE ONE HILL, so you can thank Shahin (the next time you see him) for preparing us with many runs up and down Sonja & Monticello.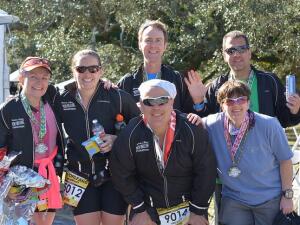 With the race in the bag it was time to really enjoy NOLA and all its glory.  The Crescent City did not disappoint...the food, drinks, & the sights.  We might have disappointed NOLA because overall we all weren't a very enthusiastic set of visitors after the big race, running a marathon is hard work! I heard several folks say that they have a new and positive appreciation for a city that often has a less than stellar reputation, and I am sure there is no shortage of good stories related to the city, Creole dining, Beignets and coffee with a hint of chicory.  It would be a mistake to talk about NOLA and forget the French Quarter -- I know at least 1 pair of Fleet Feeter's that ate & drank there way thru the French Quarter starting with Breakfast and at last update they were at 10+ hrs without an end in site. I am sure this story is unforgettable too. I look forward to our next Fleet Feet running adventure together!
NEW! Coach's Corner - Shahin's Blog