Just in time for summer, experiences the comfort and support of your Superfeet inserts, now in a sandal! These sandals are perfect for recovery after a big race, or simply for wearing around town. Superfeet OUTSIDE sandals' foam layers work together to cradle your foot, while the distinct Superfeet shape and deep, structured heel cup help to absorb impact and provide support.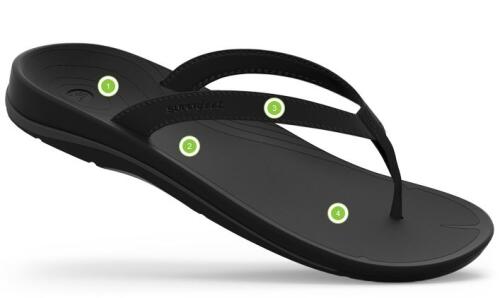 How It Works
1. Deep Heel Cup | Helps position the soft tissue to help naturally absorb impact.
2. Designed with Gender Specific Dimensions | OUTSIDE Women's sandals feature a reduced arch length and narrower heel to better fit a woman's foot, while the Men's sandals and designed on a wider last to accommodate a typical man's foot.
3. Quick-Dry Strap | Quick-dry synthetic leather strap for structure, neoprene for comfort.
4. High-Impact Top | Foot-friendly top layer for long-lasting cushion & comfort.
Shop Superfeet Outside Sandals Online