We have launched a new, nationwide Fleet Feet Rewards Program, and we want you to be a part of it. In addition to earning rewards for every dollar you spend, you can now earn trips, merchandise, and experiences for doing what you love most, being active. All Points and Miles can be managed by you with the free Rewards Program App.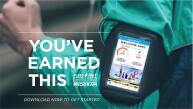 Points
You will earn 1 point for every $1 you spend at any Fleet Feet location, nationwide. When you earn 150 points, you will receive a $15 Reward to be redeemed in store. You can track your points using the new Rewards Program App.
Miles
You can also earn "miles" to be redeemed for Fleet Feet gear or be entered for a chance to win prizes. The Rewards Program app will allow you to engage with Fleet Feet through social media, by answering trivia questions, and by doing a "check in" at store events. All of those things will earn you "miles" for Rewards. You can also earn miles the way we at Fleet Feet love to...by running! Sync your Garmin or Strava account to the Rewards Program app and earn up to 100 miles a month.
Enrolling
If we already have your email address in our system, you should be automatically enrolled in the new Rewards Program. Download the app using the same email address you gave us to sync the app with our system to track your Rewards points.
If we don't already have your email address, make sure to give it to us the next time you shop with us so you can start earning points.