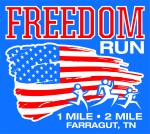 Kick Off Independence Day with the Farragut Freedom Run 1 Mile & 2 Mile Race
Race to run in front of the Town of Farragut Independence Day Parade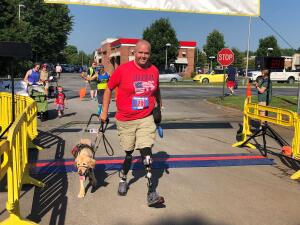 Farragut, T.N. – Fleet Feet Knoxville Running Club (collectively "FFKRC") is proud to present the fourth annual Farragut Freedom Run featuring a 1 and 2 mile race on July 4, 2019. The race will be held in conjunction with the 32nd annual Town of Farragut Independence Day parade. Both the 1 and 2 mile course will start on Campbell Station Road, continue down Kingston Pike and finish in the Ingles parking lot, running in front of all those waiting for the parade to begin.
The format of this event is ideal for a diverse crowd of runners.  Families and elite athletes alike will have an opportunity to run in front of the parade.  The courses are USATF certified.
Like in previous years, the Freedom Run will support local charity Smoky Mountain Service Dogs. Their mission is "To Enhance the Physical and Psychological Quality of Life for Veterans with Disabilities by Providing Custom Trained Mobility Assistance Service Dogs." FFKRC is honored to partner with this incredible organization, and looks forward to the opportunity to give back to our nation's military veterans while celebrating Independence Day with the community.
For more information, please visit the race website at www.fleetfeetknoxville.com/races/farragut-freedom-run.