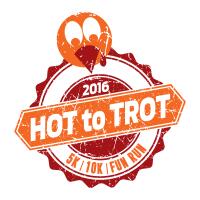 Knoxville, TN -- March 1, 2017 -- In Thanksgiving 2016, the Fleet Feet Knoxville Running Club hosted the annual Hot to Trot 5k/10k & Fun Run. For the past 6 years, this event has supported A Hand Up for Women,and in 2016 FFKRC was able to donate $8000 to the non-profit, bringing the total contribution over the years to $38,000. New for 2016, FFKRC decided to do more and donate an additional $1,000 to the race's food drive recipient, Shepherd of Hope Food Pantry, along with boxes of food collected at Fleet Feet Sports Knoxville throughout the month of November.

A Hand Up For Women is a non-profit women's job corps, providing life management and job readiness classes to women who've been through unbelievable hardships so that they can become more self sufficient.

Shepherd of Hope Food Pantry is a food pantry operating out of Faith Lutheran Church, with a mission to provide food those in need in the community.

FFKRC is proud to support these incredible local charities with the help of Hot to Trot sponsors Publix, Tennova, and New Balance.

###
Media Contact:
Katlyn Gagnier, Fleet Feet Sports Knoxville
865-675-3338
marketing@fleetfeetknoxville.com