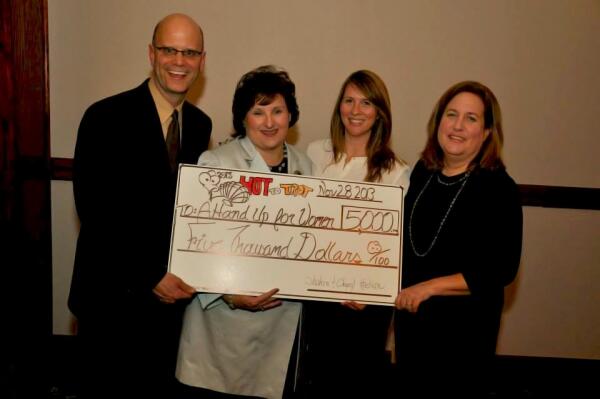 Knoxville, TN -- March 3, 2014 -- This past weekend, representatives from the Hot to Trot 5k/10k & Fun Run Race Committee presented it's $5,000 donation to Knoxville charity organization, A Hand Up for Women. The Gala, held at Rothchild Catering and Conference Center, was attended by a record number 420 guests. The Hot to Trot races has chosen A Hand Up for Women as it's beneficiary for the last 3 years and is pleased to announce that the organization will once again be the beneficiary for this year's race.
The Hot to Trot races, held each year for the last 5 years on Thanksgiving Day, is organized by Fleet Feet Sports Knoxville, the Fleet Feet Knoxville Running Club with the help of presenting sponsors Tennova Health Care and New Balance. This past year, over 3,000 registered to run and walk their way through Turkey Creek at this family-friendly race. Race Committee members are currently working to accommodate more runners at this year's race. 
Brad Hood, Chaplain and Patient Advocate at Tennova's Turkey Creek Medical Center and Hot to Trot Race Committee member said of the donation, "For the last three years the race proceeds have been the largest single donation to A Hand Up for Women, a very worthy organization in Knoxville. Combined, year-to-date the race has contributed $15,000.  That money directly affects the lives of our participants, women who are working hard (against great odds) to become more self-sufficient."
A Hand Up for Women teaches women seeking to become personally strong and self-sufficient in every area of their lives by taking them through a one-year program that teaches them skills in Life Management, Spiritual Development, and Job Readiness. Upon graduation, the women are encouraged to stay involved in the program by attending events and classes with new enrollees and staying in touch with their assigned volunteer mentor. Shahin Hadian, Fleet Feet Sports Knoxville's Owner said of the organization: "The organization's untiring effort to provide women the outlets to lead a more self-sufficient life is such a blessing.  A Hand Up for Women gives hope to those who desperately need it as they change their lives." 
Fleet Feet Sports Knoxville is a locally owned, franchised, retail store specializing in footwear and apparel for East Tennessee's runners, joggers, and walkers. At Fleet Feet Knoxville, we take the time to understand our customers' footwear and apparel needs utilizing our FIT process. We are centrally focused on running and walking, and also respond to the overall fitness needs of our local market. Fleet Feet Knoxville will strive to become the heart and "sole" of the Eastern Tennessee running and walking community. The store, along with vendor partners will sponsor training runs and walks, clinics and vendor presentations. By cultivating partnership with events in the community, Fleet Feet Knoxville intends to make each running and walking experience the best it can be.
###
Media Contact:  
Kelly Ross
Kelly Ross, Fleet Feet Sports Knoxville
865-675-3338
kelly@fleetfeetknoxville.com