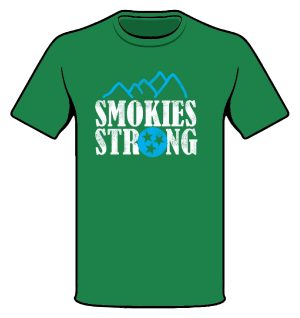 Knoxville, TN – Fleet Feet Sports, the local retail leader in supporting the Knoxville running community, announces today its effort to raise money for the Friends of the Smokies through the sale of limited edition "Smokies Strong" athletic shirts.
Brooks Running and Fleet Feet Sports Knoxville teamed up to offer these technical shirts to encourage local runners and walkers not just to donate to a worthy cause but also to  raise awareness by wearing them around town.
Fleet Feet Sports recognizes the Smoky Mountain National Park as not only a beautiful natural preserve and educational resource, but also for the service the park provides by encouraging people to exercise by hiking, trail running, mountain biking, and more.
As we celebrate our 10th anniversary, we decided to show our support for the East Tennessee community that has been here for us all these years.  Given the recent tragedy, this was an easy decision for us where the runners and walkers can come together and raise needed funds to take care of our local jewel of the Smoky Mountains.
Shirts are available for $20 at Fleet Feet Sports Knoxville.