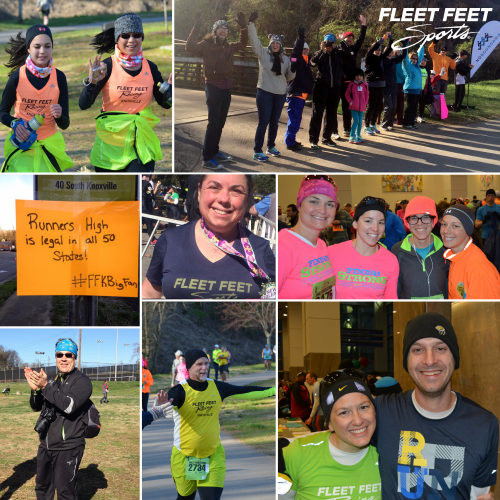 Drumroll please.... And the winner of the title of Fleet Feet Knoxville's Biggest Fan is... PAM MOORE! For those of you who know her, this comes as no surprise. She is always out there supporting FFK at events and races, either cheering or running alongside her friends. This weekend was no exception, so thank you Pam for keeping us smiling with your facebook posts and sharing your love of running. Enjoy your brand new Adidas running shoes and apparel, you earned 'em!

The rest of the winners are as follows:
1st Runner Up: Beth Miller! You won an Injury Prevention gift basket

2nd Runner Up: Roberta Brock! You won a Hydration gift basket

3rd Runner Up: Renee Black! You won a Nutrition gift basket

And for wearing Fleet Feet gear on race day and cheering on a chilly morning, the following runners and specators each win a $25 voucher to spend on apparel here at Fleet Feet Knoxville: Cecil Callihan, Melinda Spiva, Don Turner, Kaitlin Huey, Henry Marambio, and Christina Stoica!

All winners will be receiving emails with instructions on how to claim their prizes.