Victoria Sloan is a Fleet Feet Knoxville Training program alum, who has since moved back to her home in England, where she is now a running coach herself! Read on to learn her story:
Where did I start?
When I came to the US, I'd done some running on treadmills, but hardly ever outside. I didn't think I was any good at sport, and I went to the gym only to encourage my husband to make use of his membership. Just before I left England, my sister had introduced me to a "parkrun" – free, timed weekly 5K runs which take place all over the country. I'd enjoyed running with her, but she did have to give me some serious encouragement to keep me going all the way round and I didn't feel very fit. When I got to Tennessee and discovered the time difference meant all my English friends and family were asleep in my evenings, I realized it would the perfect opportunity to do something about those vague ideas I'd had for improving my lifestyle. Fleet Feet Knoxville training programs on the website looked really welcoming, but the next start date was a couple of months away. While I was looking, I spotted the Hot to Trot race details and signed up for that. It was a great event and I had quite a good run, so in a moment of over-excitement I signed up for the 10K program instead of the 5K as I'd been planning.
What did Fleet Feet training programs do?
Fleet Feet training programs were absolutely inspirational. FF coaches provided all the technical support and advice I needed to progress safely and exceed all my running goals, but also masses of enthusiasm, encouragement and enjoyment. In the midst of the 10K program, I was asked by a work colleague to accompany them round Knoxville half marathon – instead of telling me I was daft for agreeing to this, my FF coaches arranged a special run to show me the famous Noelton hill so I wouldn't get a nasty shock, cheered me on at mile 10 and waited to welcome me over the finish line. It was one of the most emotional moments of my life to discover I had gained a family in another country.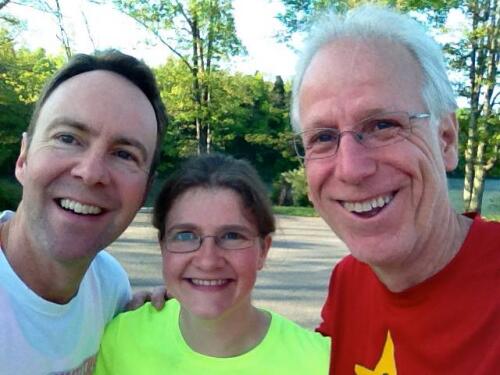 Since FF programs made training such a pleasure, I found myself doing more and more of it. The wide variety of programs made progression really easy - full marathons, trail running and sprint triathlons – if I'd been able to stay in the US for longer, I'm sure I'd have added even more events to the list. It wasn't just the training either – FF helped me explore TN and beyond, and were invaluable in initiating me in various aspects of life in the US.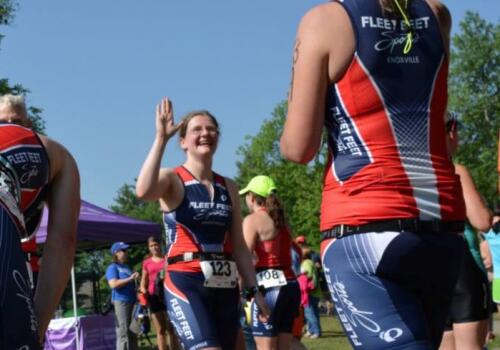 Where am I and where am I going?
I am now a proud member of my local running club, Westbury Harriers, and as it's England, I compete in cross country events as well as road races. I also participate in swim training sessions and am preparing for a series of open water races next summer. I'm still not a great cyclist, but after Tri 101 with FF, I have the confidence to ride my road bike in a group so I hope to improve with time. My personal goal is to complete an Ironman before I'm 40. However, after my success persuading my long-suffering husband around a 10K "Movember" run in 2014, I've also found that I like sharing all the knowledge I gained with FF, so I have completed my England Athletics qualification as a Leader in Running Fitness. I am currently leading a beginners group from the University of Bristol aiming to complete the 2015 "Movember" 5K in three weeks' time, and I hope to expand the group in the future.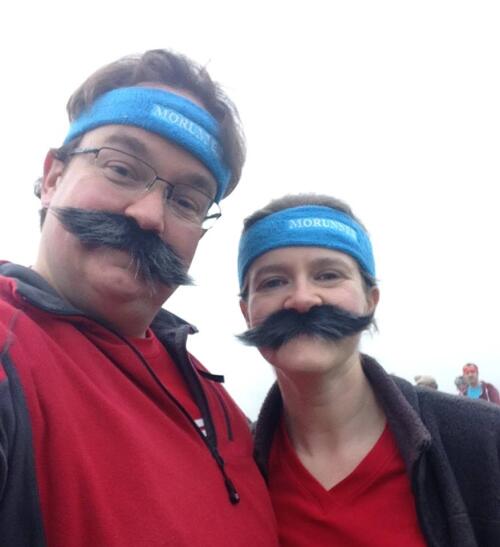 I train most days now, and I'm fitter, healthier and happier. Fleet Feet programs gave me the best possible advice on how to approach an active lifestyle, but more than that were a truly great example of good sportsmanship - welcoming, encouraging and supportive of all individuals. I only wish they were here in England!