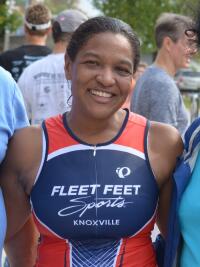 By Shameka Pollard -- Something amazing happened this summer.  I was able to complete my first sprint triathlon.  This is amazing because I could not swim.  Another issue was that I was not a stronger biker.  I attended one of Fleet Feet's Triathlon Training information sessions and talked with Shahin. I told him my issues, and he encouraged me to train with them.  I started in June with Collin as my swim coach and Kyli as my bike coach.  I mentioned that I couldn't swim, right?  That was an understatement because I was completely terrified of the water.  The truth is, I would have some serious panic attacks in the pool and it wasn't pretty.  It was scary and very embarrassing.   It would have been so easy to quit because I started to think learning to swim and getting more comfortable in the water would never happen.  I honestly felt like I was wasting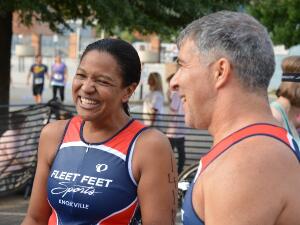 Collin's time and taking up valuable lane space in the pool.  The funny thing is this is just how I was feeling, but I was never treated that way.  Collin continued to work with me and refused to give up on me.  The amazing thing about this group is the ridiculous amount of encouragement, inspiration and motivation they offer.  The advanced swimmers took the time to encourage me and tell me how and where they started. I would see people in the advanced lane just zipping along and learn that they started the training program just 2 years prior and couldn't swim a lap free style. 
It ended up taking a village to get me to swim my very first lap free style; that village consisted of Collin, Cheryl and Shahin.  The morning I finally swam my first lap, I got to my car and cried because I was so happy and honestly shocked.   I was still terrified of the water and would panic, but I was starting to see the light at the end of the tunnel.  I could swim one lap, but it took everything out of me physically and mentally.  At this point, I was still fighting the water and had no idea how I would be able to cover the distance necessary for a sprint triathlon even with rest breaks.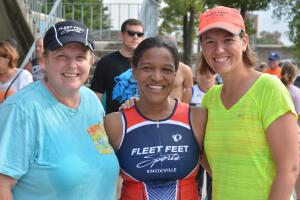 I eventually recruited Wendie to help me with my anxiety and increasing my ability to consistently swim a lap before falling apart.  She has worked alongside Shahin, and she is a blessing. She gave me the confidence to actually know that I could complete a sprint triathlon.  I knew there was a chance it would not be pretty, but I knew I could make it from one end of the pool to the other.  My anxiety had been so extreme that I missed the traditional sprint triathlons held in July and August.  I wasn't ready at that time, but when I was ready there was the Anchor Splash Sprint Triathlon.  At this point, I could swim 25 yards at a time with less frequent and less severe panic attacks.  I was usually able to recover and complete my lap if I did experience one of my episodes.  My timing with my breathing wasn't great and I couldn't completely relax in the water.  However, I felt better about the swim and knew I needed to do this triathlon for myself and for all of the people who helped me during this training season.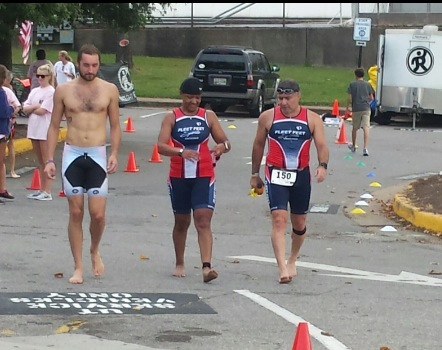 Anchor Splash is a reverse triathlon where you run, then bike and then swim.  The swim for this race was 300 yards.  I, of course, had to pick the race with the longest swim for a pool sprint triathlon.  Once I registered, Collin, Shahin, Wendie and Kyli were so excited.  I was happy that they were excited, because I was petrified.  Race day arrived.  I was a nervous wreck, but my parents came to town to watch, a couple of friends came to watch and I had the Fleet Feet Team there.  The run and the bike went well, but the thought of that swim was hanging over me.  By the time I came in to transition from the bike, I was in full panic mode.  Something wonderful happened; Shahin and Collin walked me down to the pool.  They stayed on one end of the pool deck while Kyli and Wendie were on the other end.  I got in the pool and focused on swimming one lap at a time to reach my coaches.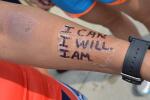 Each lap was a fight; I would get under that water and doubt would creep in.  I felt like I was getting closer to a panic attack, but I also knew I had my coaches waiting for me and I knew there were a lot of people rooting for me.  So, I had to finish no matter how long it took me and no matter how ugly this might be.  I had to stop at the wall after each lap to rest and try to calm myself down.  The best thing was having my coaches there who were reassuring me that everything was okay. 

It felt like the swim took forever, but I finally made it to my last lap.  During my swim to the pool exit, I could not believe that I was completely afraid to put my face in the water in June and I was now on my way to finishing my very first sprint triathlon.  I climbed out of the pool to find Kyli and Wendie right there waiting for me and all I could do was cry. As I came around the corner on the pool deck, there was a huge Fleet Feet crowd cheering for me.  I, of course, cried even harder because these people are amazing.  They have all been so encouraging and have been a major source of motivation for me.  I know without a doubt that I was only able to accomplish this because of these wonderful people.  I thought completing a sprint triathlon would be impossible, but the training program has made it possible.  Through this training program, I have met some wonderful people, learned so much and met so many goals.  Every minute of that swim was a struggle for me, but as soon as I climbed out of the pool I knew I wanted to get better.  I will definitely be back for more. I can't wait for next year's triathlon training.